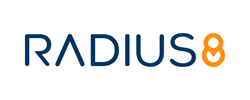 "Consumers expect online experiences that engage them with their nearest store, as well as for store experiences to be digitally influenced by what's relevant around the store."
PRINCETON, N.J. (PRWEB) March 14, 2018
Radius8, a breakout retail technology startup, today announced leading retailers and brands GUESS, Inc., John Varvatos Enterprises Inc,., and Zumiez Inc. have all selected its technology to create digitally connected store experiences. Radius8 is the pioneer of the new industry standard for store-centric online experiences and in-store experiences based on local digital demand, which have become table stakes to meet today's high consumer expectations.
Launched at the inaugural 2016 Shoptalk, the world's largest conference for retail and ecommerce innovation, Radius8 returns to Shoptalk next week as a Level 5 sponsor--consisting of the top 15 sponsors of more than 500 sponsoring and exhibiting companies.
Radius8 is led by Sandeep Bhanote, founder and chief executive officer, who previously founded Global Bay Mobile Technologies, which was acquired by Verifone in 2011.
Over the past two years, Radius8 has defined a new industry standard for digital engagement with brick and mortar by solving for gaps between consumer expectations and the realities of today's retail engagement model. The company has grown rapidly with many established retailers and brands signing on for its groundbreaking solution in a short period of time.
"Retail is at a crossroads and 2018 will continue to separate the winners from the losers, with innovators relentlessly focused on creating experiences that seamlessly connect their physical and digital experiences to meet today's uncompromising consumer expectations," said Bhanote. "Consumers expect online experiences that engage them with their nearest store, as well as for store experiences to be digitally influenced by what's relevant around the store."
"Our customers engage with our brand at multiple touch points - in both physical and digital spaces - and to continue providing the experiences our customers expect requires new ways of thinking as well as innovative tools. Delivering digitally connected store-experiences, that consumers now expect, is central to Radius8's mission" said Cathy Barnett, Vice President, Digital Sales and Marketing, Zumiez
Radius8's presence at Shoptalk, which will take place on March 18-21 at the Venetian in Las Vegas, includes exhibiting as part of the Store of the Future Discovery Zone, with booth location number SF21.
About Radius8
Radius8 enables retailers to sell more to consumers by creating store-centric online experiences, and in-store experiences based on local digital demand. These experiences are now table stakes to meet today's industry standards and consumer expectations and allow you to improve profitability by increasing consumer engagement. Radius8 can generally be implemented in less than 30 days regardless of a retailer's technology stack, and without requiring changes in store associate behavior or investing in new infrastructure. Radius8 customers include GUESS, Inc., John Varvatos Enterprises Inc., and Zumiez Inc.
Radius8's specific products include:
Local-Influenced Ecommerce
This product allows retailers to increase ecommerce sales by monetizing low-performing or non-revenue generating pages--such as store locator or store SEO pages--based on signals local to each store, such as location specific trends, weather, sporting events, store sales data, inventory and more.
Pre-Shop the Local Store Online
This product enables retailers to drive more store traffic by monetizing "intent to visit the store". How? By enabling the customer to easily pre-shop their visit. Each store experience is unique because it is powered by signals local to each store such as location specific trends, weather, sporting events, store sales data, and inventory.
Insights and Analytics to Improve Store Experience
This product provides insights and actionable data for store management, planning/allocation and merchandising to create in-store experiences that reflect what the digital and mobile customers are doing around the radius of every store in every local market.