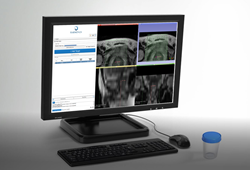 Harmonus ProBx Software provides a new approach for precision targeting for MRI-guided prostate biopsies and focal therapy.
BOSTON (PRWEB) March 15, 2018
Harmonus Inc., a medical device company specializing in image guided therapy solutions, announced its 510(k) clearance from the U.S. Food and Drug Administration (FDA). The clearance is for the Harmonus ProBx software for MRI-guided prostate interventions.
Harmonus's ProBx software is a superior and innovative solution to the significant problem of suboptimal prostate cancer diagnoses. With this new technology, Harmonus seeks to provide doctors and their patients with better options to assess and treat prostate cancer.
Unlike previous methods for performing MRI-guided biopsies, the ProBx software is designed for precise and efficient targeting and confirmation of suspicious lesions. A detailed record of sampling locations is created for continued surveillance and treatment. The ProBx software functions as a kiosk connected to the MRI console, receiving DICOM images and displaying them to the user via 2D and 3D visualization at the appropriate steps in the workflow. It is designed to make the procedure as simple as possible, leading the user through the workflow steps and allowing the user to return to prior steps (targeting, target selection, confirmation, etc.) and repeat, if deemed necessary.
Radiologists now recognize MRI has superior soft tissue resolution and better visualization of the surrounding anatomy, compared to conventional ultrasound for detecting prostate cancer. The 2016 Joint Consensus Statement from the American Urological Association and Society of Abdominal Radiology states: "If a biopsy is recommended, prostate MRI and subsequent MRI-targeted cores appear to facilitate the detection of clinically significant disease over standardized repeat biopsy."
"One in nine men will receive a diagnosis of prostate cancer in their lifetime, according to the American Cancer Society" said Harmonus CEO Nicole Mauro. "It is the second leading cause of cancer death among men." Almost all prostate biopsies are guided by trans-rectal ultrasound (TRUS), which has limited accuracy and can cause serious side effects. This can lead to suboptimal treatment decisions and patient outcomes, which in turn drive higher incidences of repeat biopsy, delayed detection of significant disease, disease overtreatment, and serious complications. "Our goal is to enable physicians to provide patients with a safe, accurate and cost-effective method for MRI-guided prostate biopsies and interventions."
About Harmonus:
Harmonus Inc. was founded in 2015 to commercialize in-bore MRI-guided prostate biopsy technology developed and clinically tested at a Boston teaching hospital. Our leadership team has extensive experience in medical image guidance and medical devices. The company's mission is to offer a comprehensive range of diagnosis and treatment services that rely on accurate and precise needle placement in a targeted lesion. In the future, we envision Harmonus technology will expand to other forms of cancer and treatment modalities.