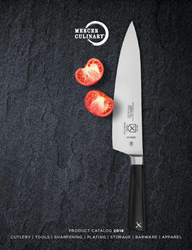 (PRWEB) March 15, 2018
As the industry continues to evolve and progress, Mercer is working diligently to meet not only the current needs, but what is to come in the future. The company's efforts continue to be centered on working side by side with culinary professionals and foodservice operations to help them function more efficiently.
Notable additions to the product lines include:

Trend Plating – Mercer's most popular plating spoons and tongs in attractive matte black and rose gold finishes. These elegant and sleek tools are designed for the professional who is looking to up their personal style.
Y peelers - constructed with an incredibly sharp carbon steel blade in three different colors.
Four uniquely different bar/utility knives, offering incredible flexibility and functionality for a variety of tasks. These knives include a blade sheath for safe storage.
Two fish bone tweezers - manufactured to exacting precision for effortless removal of the finest pin bones.
This catalog also includes an entirely new introduction, Barfly® Mixology Gear, a comprehensive line of products for today's mixologists. Four different finishes – stainless steel, copper plated, gold plated, and gun metal black, are available to complement any décor. Barfly Gear looks as good as the drinks created with them.
To learn about these and all the other new items, visit http://www.mercerculinary.com and download the catalog. To obtain a printed version contact Mercer Culinary, 1-800-221-5202 or sales(at)mercerculinary(dot)com
About Mercer Culinary
Mercer Culinary manufactures and supplies cutlery and accessories for the professional culinary market. Exceptional materials, unique design and dedicated craftsmanship are the hallmark of Mercer products. Mercer is the predominant supplier to culinary education with a strong presence in commercial foodservice spanning more than 30 years. Quality, performance, value, and service are the focal points for this third generation family business.