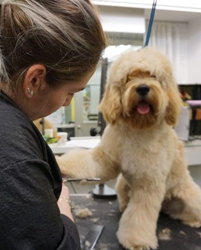 "Pampering pets is something we love and it's a privilege to be recognized for our upscale and customized grooming services, " said Tania Isenstein, owner of Camp Canine. "We're committed to providing world-class grooming and salon services for our four-legged guests."
NEW YORK (PRWEB) March 15, 2018
Camp Canine, the premier pet care facility located on the Upper West Side, has been named one of the best groomers in New York City by Expertise, a company that reviews top service professionals across the United States. Nearly 2,000 groomers in New York City were reviewed and Camp Canine was just one of 18 facilities to earn the distinction.
"Pampering pets is something we love and it's a privilege to be recognized for our upscale and customized grooming services," said Tania Isenstein, owner of Camp Canine. "We're committed to providing world-class grooming and salon services for our four-legged guests."
Expertise's selection criteria includes: reputation, credibility, experience, availability and professionalism. The review process involves in-depth research, detailed comparisons, and deciphering which online reviews are reliable and authentic. According to Expertise, unlike most other websites and directories, a business can't pay to be included in their directory. This gives users the confidence to find and connect with exceptional businesses that are objectively qualified and authentically well-reviewed.
Camp Canine's full-service grooming salon for dogs and cats is staffed by skilled, professional groomers and utilizes state-of-the-art equipment. Grooming allows pets to look and feel their best, and there are health benefits to regular grooming. Camp Canine frequently donates free grooming "makeovers" for homeless dogs so that they can put their "best paws forward" to potential adopters.
Pampering pets is a growing trend in the United States and the pet industry continues to grow. Americans will spend nearly $70 billion dollars on their pets this year and $5.76 billion on services such as boarding and grooming, according to the American Pet Products Manufacturers Association.
ABOUT TANIA ISENSTEIN, "TOP DOG":
A lifelong animal lover, Isenstein had been a decade-long client of Camp Canine when she left her lucrative career as a Wall Street lawyer in order to purchase the facility and pursue her passion of pampering and caring for pets. She wanted to spend her days with the furry friends of her beloved Spaniel mix Mooshoo and help busy New Yorkers by providing an extended family for their pets. She made the dramatic career change and transformed Camp Canine into New York City's premier pet care facility. Isenstein can often be found caring for her four-legged guests or working at her desk with a sleeping dog or two by her side and a smile on her face.
ABOUT CAMP CANINE
Camp Canine is New York City's premier pet care facility located on the Upper West Side of Manhattan. The luxury, full-service facility is privately owned by Tania Isenstein and provides overnight lodging for dogs and cats, doggie daycare, grooming, training, long walks in Central Park, and a variety of pampering amenities for its four-legged guests. Camp Canine is also committed to actively supporting the animal rescue community. To sniff out more about Camp Canine, call 212-787-3647 or visit http://www.nycampcanine.com .