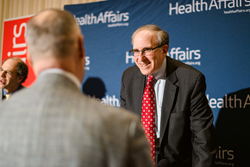 "The organization's 'triple aim' is laser-focused on Community, Automation and Platform."
CRANBURY, N.J. (PRWEB) March 13, 2018
Mike Squires, Vice President of Innovation and Public Policy at BluePrint Healthcare IT and Care Navigator Inc, recently participated in a panel at the Health Affairs "Diffusion of Innovation" event in Washington, DC. He highlighted how the organization has supported healthcare IT innovation adoption through the creation of the award-winning Care Navigator™ Care Coordination platform and their prior development of the Healthcare Innovation Exchange Summit series
As quoted by Health Affairs on Twitter, Squires said, "The organization's 'triple aim' is laser-focused on Community, Automation and Platform." These three dimensions are key to creating and diffusing innovation for value-based care models that include care coordination and care management, particularly those addressing social determinants of health, behavioral health and partnering with community-based organizations.
The panel focused on the "The Road Ahead: Accelerating Diffusion," where Mike pointed out one such implementation featured in a front-page Washington Post piece, highlighting Vermont's "ambitious goal of taking its alternative payment model statewide and applying it to 70 percent of insured state residents by 2022."
In 2017, 30,000 Medicaid patients "transitioned into the experimental model through a pilot run by the accountable care organization OneCare Vermont." The system uses Care Navigator™ to "flag people with complex medical needs and chronic health conditions and to coordinate care and support for those deemed at high risk."
During the panel, Mr. Squires highlighted the reasons why community, automation and platform are necessary to realize the goals of value-based care and payment models. In the case of Vermont, established communities -- already working together using a toolkit of methods and protocols -- scaled and accelerated diffusion of their innovation by automating workflows and processes, and connecting extended care team members within and across communities on a single software platform.