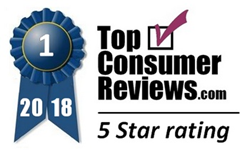 For all of these reasons, we are pleased to name Bowflex our highest-ranked retailer among Home Gyms, and our first-choice pick in 2018
OVERLAND PARK, KS (PRWEB) March 23, 2018
TopConsumerReviews.com recently gave another best-in-class 5-star rating to Bowflex, a leader among online sellers of Home Gyms.
When asked about their personal fitness goals, many people answer with "getting in shape" or "losing weight". However, the best approach to either goal varies widely, and there's no shortage of people who've tried gym memberships, diet pills, and get-fit-fast schemes. Most experts agree that, as far as physical fitness goes, the most effective approach combines strength conditioning and cardio workouts. While it may be easy to go for a walk or ride a bike, strength training often proves more challenging. For this reason, buying a Home Gym system can help even novice exercisers to get that important component integrated into their fitness routine, without the embarrassment of looking clueless at the gym or in front of a trainer.
"For over two decades, Bowflex has been the top name in Home Gyms," stated Brian Dolezal of TopConsumerReviews.com, LLC. "Designed by experts in physical fitness, the Bowflex system includes a mind-blowing resistance of up to 600 pounds, but without the bulky plates and weights that you'd need if you were using barbells or other traditional lifting equipment. There are more than 100 exercises that can be executed using the Home Gym, all from the privacy and comfort of home. Bowflex also has an amazing track record for customer service, with a guarantee of at least 5 years on the equipment, free shipping, and available pre-approved financing for most customers. For all of these reasons, we are pleased to name Bowflex our highest-ranked retailer among Home Gyms, and our first-choice pick in 2018."
To find out more about Bowflex and other online retailers of Home Gyms, including reviews and comparison rankings, please visit the Home Gyms category of TopConsumerReviews.com at http://www.topconsumerreviews.com/home-gyms/.
About Bowflex
Bowflex is a part of the Nautilus brand family. Headquartered in Vancouver, Wash., Nautilus, Inc. is a global fitness solutions company that believes everyone deserves a fit and healthy life. With a brand portfolio that also includes Nautilus, Octane Fitness, Schwinn and Universal, Nautilus, Inc. develops innovative products to support healthy living through direct and retail channels as well as in commercial channels with Octane Fitness products.
About TopConsumerReviews.com
TopConsumerReviews.com, LLC is a leading provider of independent reviews and rankings of hundreds of consumer products and services. From Home Gyms to Exercise Bikes and Elliptical Machines, TopConsumerReviews.com delivers in-depth product evaluations in order to make purchasing decisions easier.