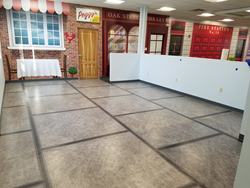 BOSTON (PRWEB) March 15, 2018
Merritt Graphics deploys progressive graphic techniques for the Boston Ability Center (BAC), a state of the art pediatric wellness center that is dedicated to helping kids reach their highest level of function in every area of development. Located in the Boston area, the center offers physical therapy, occupational therapy, speech and language therapy, and social-motor groups.
The graphic treatment of the walls and floors focused on creating a small town village atmosphere where the "kids" would be happy and feel right at home so they can thrive in their individual areas of cognitive therapy. Merritt Graphics worked in concert with Janet Crew Wade, DPT, PCS. Janet, a Doctor of physical therapy, has been working with kids in the Boston area for 20 years. Janet's idea and goal to provide a safe neighborhood environment thru the use of progressive graphic techniques led Janet to work with the team of Jenkins Design consultants and Merritt Graphics BIG COLOR to help execute her vision. The Boston Ability Center fulfills Janet's life-long goal to combine clinical excellence and fun while helping children gain the skills they need for a healthy, happy life.
About BILD Print Media, by Better Life Technology; A one-of-a-kind, completely custom, multi-use print media. Print any image on any surface, giving you an endless array of marketing and branding applications to build an image with lasting durability. This cutting edge technology offers a reliable media to produce a wide range of permanent and free floating floor and wall applications. Developed for walls and floors, it is best suited to second surface printing and offers the most durable material wear layer in the industry. The material is extruded as a clear, flexible PVC product allowing bright colors to shine and bold messages to stand out. The printed floor images are protected by a massive wear layer — the thickest in the industry. Manufactured in widths of up to 10 feet and in 35 mil, flexible 75 mil and semi-rigid 85 mil thicknesses, BILD print media provides protection of the images that competing materials just can't match. http://www.merrittgraphics.com/big-color/products/floor-graphics