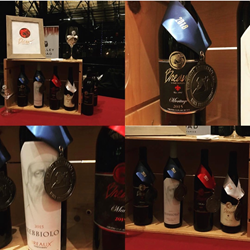 We believe these awards prove our commitment to the creation of exceptional wine
PURCELLVILLE, Va. (PRWEB) March 14, 2018
Breaux Vineyards, a Loudoun County Winery, announced this week that they have received numerous awards from the 2018 Virginia Governor's Cup, a Virginia-based wine competition. The Virginia Governor's Cup is considered one of the nations most stringent competitions.
During the competition, over forty world-class judges sampled more than 440 wines from 100 Virginia-based wineries. Wines were judged on appearance, aroma, flavor, overall quality, and commercial suitability.
During a preliminary round, seven judges sampled each wine. Scores were averaged to determine eligibility in the final round. During the final round, twelve judges sampled each of the highest-ranking wines.
Wines that received a final average score of 80 points or higher received a medal. Wines that earned 90-100 points received Gold, 85-89 points received Silver, and 80-84 points received Bronze. Gold Medal winners are considered among the best wines in the world.
Breaux Vineyards received the coveted Gold Medal for their 2015 Meritage and 2015 Nebbiolo. The vineyard also received a Silver Medal for their 2015 Melbec, and a Bronze Medal for their 2016 Melbec.
"We are pleased to receive these prestigious awards." said Jennifer Breaux, Vice President of Breaux Vineyards. "We believe these awards prove our commitment to the creation of exceptional wine."
Breaux Vineyards has been recognized by numerous organizations. Their wines have won awards in several competitions including the San Francisco International Wine Competition, the Decanter World Wine Awards, the US National Wine Competition, the International Eastern Open Wine Competition, the Virginia Wine Lover Magazine "Wine Classic Awards", and many more. Recently, Breaux Vineyards won best in class at Loudoun County Wine awards and gold for the 2016 Rosé. Breaux Vineyards truly has earned their reputation as Virginia's favorite winery.
Breaux Vineyards is holding a Gold Medal tasting on St. Patrick's Day weekend to celebrate their award winning wines. The event, which Breaux is calling Gold Rush Weekend, will include tastings of six of their gold medal winners. Wines offered at the event include Breaux's 2016 Rose, 2015 Nebbiolo, 2015 Meritage, 2015 Meritage, 2012 Meritage, and their 2016 Madeleine's Chardonnay.
Tastings at the event will take place from 11:00am to 5:30pm on Saturday, March 17th, and Sunday, March 18th. The cost is $20 per attendee or $15 for Cellar Club Members. Reservations are strongly encouraged and can be made here.
About Breaux Vineyards
Breaux Vineyards is a 400+ acre estate in Loudoun County, Virginia. The property features 104 acres of vineyard planted with 17 different grape varieties. Breaux Vineyards offers a tasting room and hosts numerous events and weddings. The winery uses state-of-the-art equipment and proven practices to create their award winning wines.
For more information about Breaux Vineyards, please visit https://breauxvineyards.com.