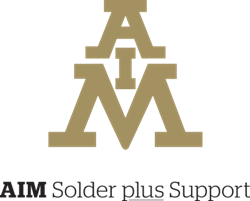 CRANSTON, R.I. (PRWEB) March 14, 2018
AIM, a leading global manufacturer of solder assembly materials for the electronics industry, announces the departure of Oglesio Manetti, Regional Sales Manager for Brazil, and the appointment of Anderson Albuquerque as Technical Sales Manager for Brazil.
The appointment of Anderson highlights AIM's commitment to this important and expanding market. Anderson will use his broad technical knowledge and deep understanding of industry needs to guide customers, assist in the identification of complex problems, and support them to implement solutions.
"We are excited to offer Anderson's ability to identify and propose technical and commercial solutions for our existing and potential customers in Brazil," said David Suraski, AIM's Executive Vice President, Assembly Materials Division. "As our customer base in Brazil continues to increase, so too do our investments. We look forward to continuing to help the market implement breakthrough soldering materials and processes."
To contact Anderson Albuquerque, you can email him at aalbuquerque@aimsolder.com or call him at +55 92 99158-8655.
About AIM
Headquartered in Montreal, Canada, AIM Solder is a leading global manufacturer of assembly materials for the electronics industry with manufacturing, distribution and support facilities located throughout the world. AIM produces advanced solder products such as solder paste, liquid flux, cored wire, bar solder, epoxies, lead-free and halogen-free solder products, preforms, and specialty alloys such as indium and gold for a broad range of industries. A recipient of many prestigious SMT industry awards, AIM is strongly committed to innovative research and development of product and process improvement as well as providing customers with superior technical support, service and training. For more information about AIM, visit http://www.aimsolder.com.
Upcoming Events:
March 14-16, 2018 – Productronica China – Shanghai New International Expo Centre, Shanghai, China
March 28, 2018 – SMTA West Penn – DoubleTree Monroeville, Monroeville, PA
April 10, 2018 – SMTA Dallas – Plano Centre, Plano, TX
April 18, 2018 – SMTA Atlanta – Infinite Energy Center, Duluth, GA