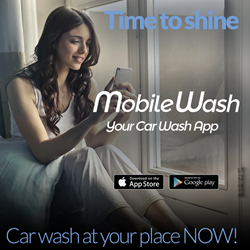 MobileWash is designed to provide an affordable way to elevate the user's lifestyle and maximize their time, while enjoying the comfort of their own surroundings.
LOS ANGELES (PRWEB) March 14, 2018
More than just a car wash app, MobileWash is a revolution for people who value their time and the freedom to choose where they spend it. MobileWash delivers convenience with a car wash or mobile detailing at the user's place in minutes. It's the lifestyle app for folks who appreciate the simple things, mixed with a side of luxury and efficiency.
L.A. just can't get enough of MobileWash- Here's why:
An upturn for downtime: However app users spend their time, they can just keep doing it. MobileWash brings the car wash to the customer's location.
Lofty lifestyle: MobileWash offers affluence everyone can afford. Packages start at $19.99.
Primo network: MobileWash connects customers to its own network of insured, professional auto detailers and it just so happens to be the largest in the nation.
Mobile modernism: Offering the most innovative app in the industry. MobileWash enables users to schedule a car wash for later or have a detailer arrive at their location in minutes. Users can also pick and choose ways to customize their wash so that it fits their budget. The smart in-app technology tailors pricing based on the make and model of every vehicle. There are even options for classic cars, lifted trucks, and exotic vehicles.
On the house: Supporting both iOS and Android platforms, MobileWash 2.0 is free to download on the App Store and Google Play.
Side gig or primary paycheck: Auto detailers can maximize their earnings by connecting to customers via MobileWash, whenever they're available.
Real people, real time: Connect with local customer support and quality assurance teams either in-person, via telephone, or by email.
Modus operandi: Service is available 365 days-a-year during daylight hours.
Praiseworthy perks: $5.00 off every 5th car and bundle two or more cars to save.
Convenience Matters
Waiting around at the car wash? "Ain't nobody got time for that!"
That's it in a nutshell. MobileWash is designed to provide an affordable way to elevate the user's lifestyle and maximize their time, while enjoying the comfort of their own surroundings. Whether customers are at home, work, or elsewhere, MobileWash will be at your doorstep in minutes. Treat yourself!
The New Must-Have App
Think of MobileWash as kind of like the rideshare of car washing. Insured, professional auto detailers are able to go online anytime they're ready to work. Customers connect to MobileWash when they need a car wash or auto detailing. Users can even choose to wash now, or wash later. MobileWash gives everyone control of the experience. It's the lifestyle car wash app constructed with convenience in mind.
Outshining the Car Wash
Offering a full-range of car wash and mobile detailing services, all detailers have been vetted and approved by MobileWash. We've engineered the most efficient mobile car wash and detailing system in the industry. Our detailers even travel with deionized water to give the cars we service an unparalleled spot-free rinse.
So, how about that update? Customers will enjoy:
A simplified login process. No registration needed!
A brand new "Express Wash" starting at only $19.99!
All new in-app notifications & SMS alerts that will guide users through the MobileWash experience.
An overall enhanced user interface that includes new functionality features requested through customer feedback.
Get to Know the Team
True. MobileWash is a great app that does it all but that's thanks to real, talented people who work behind the scenes. Get to know the MobileWash family and join our community on Instagram, Facebook, and Twitter @GetMobileWash!
The next time someone is about to pull into the car wash line, remember there's a better way. Download MobileWash today on the App Store or Google Play!