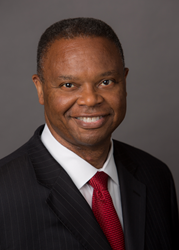 WESTCHESTER COUNTY, N.Y. (PRWEB) March 15, 2018
Hospice of Westchester (HOW) is thrilled to announce a new member of its 2018-2019 board of directors.
Max G. Gaujean, Esq. is the latest Westchester professional to join the organization's board. Mr. Gaujean is a founding member of Brown, Gruttadaro, Gaujean, Prato & Sastow PLLC (BGGPS) and the Senior Managing Attorney for the White Plains office. With over 20 years of litigation experience, Mr. Gaujean has represented medical personnel, organizations and facilities in the health care industry, hotels, corporations, educators and educational entities throughout his career.
In his current role, he is the primary contact for all major clients and business vendors for the firm's White Plains office, and serves as the head trial attorney for state and federal trials. He has lectured at hospitals including in-service lectures for medical professionals and at statewide Continuing Legal Education seminars for state and federal judges. Mr. Gaujean is AV rated by his peers as indicated by Martindale Hubbell.
Mr. Gaujean has served on HOW's Leadership and Developmental Council since 2017. He lives in Scarsdale with his family.
About Hospice of Westchester:
Hospice of Westchester (HOW) is a private, not-for-profit healthcare agency that provides skilled, compassionate and comprehensive end-of-life home care to patients diagnosed with any serious or life-limiting illness and gives support to their families and loved ones. Hospice of Westchester is located at 1025 Westchester Avenue, Suite 200, White Plains, NY. For additional information, visit http://www.hospiceofwestchester.com or call (914) 682-1484. For the latest news and updates, find HOW on Facebook.