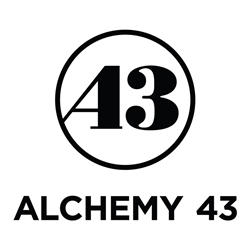 Our mission at Alchemy 43 is to be completely transparent and welcoming so that we can melt away the old stigma and replace it with a relaxing place for women and men to come and explore how Botox® or microtreatments might work for them," says Nicci, CEO of Alchemy 43.
BEVERLY HILLS, Calif. (PRWEB) March 14, 2018
Alchemy 43, a newly launched aesthetics bar in Beverly Hills, is disrupting the beauty market and the world of microtreatments with the first of its kind beauty experience. Adding to the roster of dedicated salons to receive accessible, single-focused, and convenient beauty treatments like Drybar and Blinkbar, Alchemy 43 offers Botox®, Juvederm®, and a curated selection of other microtreatments in an elevated environment by certified, licensed professionals.
Although Botox® has been extensively tested and effectively used for more than 20 years, there has been a stigma around the experience due to the closed-door nature of the procedures. Typically offered in dermatologists' and plastic surgeons' offices as an ancillary service, Botox® or other microtreatments have never been the beauty experience they are meant to be. Enter Alchemy 43: with branded treatments like "Perfect Pout" or "Hello, Bright Eyes", this unique beauty bar is making injections (or microtreatments as they call them) and the growing awareness around preventative Botox™, not only accessible and acceptable but also aspirational.
Nicci Levy, a 10-year corporate cosmetics veteran who has worked with esteemed brands such as MAC Cosmetics, CK Beauty, and Nordstrom, launched Alchemy 43 in 2015 after witnessing a growing fascination with the world of injectables. From 2009-2012 Nicci worked for Allergan, the manufacturer of BOTOX®, JUVÉDERM®, and LATISSE® as the Business Development Manager for one of the highest volume territories in the United States-Beverly Hills, 90210.
Making the move from the cosmetics industry, where the customer experience is a crucial differentiator for brands, to medical aesthetics, Levy was struck by the fact that despite the rapidly growing interest in and openness to trying Botox® and other micro treatments, the idea of a truly elevated customer experience was completely nonexistent.
"Getting fillers or microtreatments has an unnecessarily negative stigma to date, largely due to the fact that people don't know much about the process or their options. Our mission at Alchemy 43 is to be completely transparent and welcoming so that we can melt away the old stigma and replace it with a relaxing place for women and men to come and explore how Botox® or microtreatments might work for them," says Nicci, CEO of Alchemy 43. "We have brought cosmetic injectables out from behind the curtain and aim to truly demystify this world of microtreatments and the common misconceptions that come with it." By providing education and encouraging open conversation around all things Botox® and other microtreatments, the Alchemy 43 brand has established itself as a place for positive, informed consumers that are excited to add this beauty ritual to help them look and feel their best.
"The injectables market in the US is nearly $4b today, but the evolving consumer mindset is providing tailwinds that are driving significant growth in the space. Botox® and microtreatments are now a part of the savvy Millennial's beauty conversation, as consumers of all ages are learning that the anti-aging benefits of Botox® are actually even more effective when you use the treatments preventatively – avoiding wrinkles before they ever form. Most importantly, there is a real need in the Botox™ space for a better customer experience that includes convenience, trust, and transparent pricing, and Alchemy 43 is well-positioned to lead that shifting dialogue and become the gold standard for accessible, high-quality treatments in a beautiful, fun setting," says Eurie Kim, general partner at Forerunner Ventures, who recently led a $2.5 million round of funding for the company.
Forerunner Ventures is an early stage venture capital firm most notable for being the first to invest in next-generation brands like Dollar Shave Club, Jet, Glossier, Away and Warby Parker. Other investors include Toni Ko, founder of NYX cosmetics and Perverse, and BAM Ventures, co-founders of Honest Company, LegalZoom, and Shoedazzle. Additionally, the co-founders of Drybar have invested in the company and hold an advisory role.
Alchemy 43 currently offers an assortment of microtreatments and Beauty Boosts ranging from $25 - $400 per treatment, as well as a membership program called the A43 Society. This program allows for clients to put $99/month toward their microtreatments and receive them at a 15% discount along with a host of other benefits, including a free filler based microtreatment at their 12-month membership anniversary. "Since the majority of our clients are under 35, we wanted to offer a program that not only fits into their lifestyle and budget, but also support the important discipline of quarterly touch-ups so that there is no downtime and they always look their best," says Levy.
Beginning February 2018, Alchemy 43 is set to open three new locations in the Los Angeles area. For more information, visit http://www.alchemy43.com.
About
Alchemy 43 is a revolutionary aesthetics bar specializing in cosmetic injectables with the
first of its kind beauty experience. The first and only brand to merge the medical and beauty industries, Alchemy 43 delivers best in class cosmetic outcomes by blending expert knowledge, breakthrough technology, and impeccable customer service so women and men of all ages leave looking and feeling their best. Named after the word "Alchemy," which refers to the seemingly magical way the treatments can enhance your look, and "43," the number of muscles in your face, Alchemy 43 is a premier salon destination staffed by certified, licensed professionals in Beverly Hills.
Alchemy 43
440 N. Canon Dr,
Beverly Hills, CA 90210
http://www.alchemy43.com