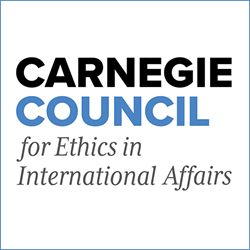 Carnegie Council's acclaimed public affairs programs offer insights from a wide array of experts on today's most critical issues. Live webcasts, followed by videos, transcripts, and podcasts, are all available online.
(PRWEB) March 23, 2018
Carnegie Council for Ethics in International Affairs announces its April public affairs programs in New York City.
To attend in person, please RSVP. Go to the online calendar at https://www.carnegiecouncil.org/calendar.
Events take place at:
Carnegie Council
170 East 64 Street, New York, NY 10065.
Or watch them as live webcasts here: https://www.carnegiecouncil.org/live.
On Grand Strategy
April 12, 8:00-9:15 AM ET
John Lewis Gaddis
How do leaders make strategic decisions? What defines great leadership? In "On Grand Strategy," John Lewis Gaddis assesses grand strategic theory in practice from the ancient world through World War II and beyond. Full of vivid examples of leadership and strategic thinking, from the Persian king Xerxes to Churchill and Roosevelt in WWII, Gaddis brings a deep knowledge of history, insight, and wit to the rigorous study of leadership.
The People vs. Democracy: Why Our Freedom Is in Danger and How to Save It
April 19, 8:00-9:15 AM ET
Yascha Mounk
Liberal democracy stands at a critical point. Forces of technology, economics, and identity are pulling our political systems toward one of two highly undesirable extremes: illiberal democracies run by populist demagogues and undemocratic liberalisms governed by technocratic elites. Is this the last chance to save democracy—both in the United States and globally?
ABOUT CARNEGIE COUNCIL
Founded by Andrew Carnegie in 1914, Carnegie Council for Ethics in International Affairs is an educational, nonprofit, nonpartisan organization that produces lectures, publications, and multimedia materials on the ethical challenges of living in a globalized world. Go to http://www.carnegiecouncil.org.