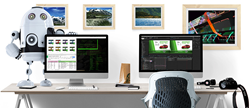 With our new API, this release opens the door to our iterative algorithm and allows developers to hook into that algorithm to do things that we may never have even thought of.
AUSTIN, TX (PRWEB) March 26, 2018
Dataclay announces the release of its latest version of Templater. Already a game-changer in the video compositing world, the Adobe® After Effects® plugin now gives users the power to extend the functionality of the plugin using its new API. As an Adobe Systems technology partner and sponsor of the 2018 Adobe Summit, Dataclay is demonstrating its commitment to making it easier to produce personalized videos for highly targeted markets.
Both small and large customized-video creators leverage the power of Templater to create targeted ads, motion graphics, broadcasts, digital signage, ecommerce solutions, and social media content. Licensees include Viacom, NBCUniversal, Facebook, Disney, Fox, Yahoo!, and the BBC.
Arie Stavchansky, founder of Dataclay and creator of Templater, is excited about what this new release means for users. "With our new API, this release opens the door to our iterative algorithm and allows developers to hook into that algorithm to do things that we may never have even thought of," says Stavchansky. "While we will certainly continue to update Templater to make it the best video versioning tool it can be, we are giving users the ability to build the features they want, when they want, with the resources they have. They don't need to wait on us to add a feature they need to Templater. They can add it themselves."
Founded in 2014, Dataclay was one of the emerging companies hand-selected by industry leaders to participate in the 2015 SPROCKIT accelerator program. Their selection was based on their potential to disrupt the market and offer real solutions to challenges in today's evolving market that many established media and entertainment companies face.
In that same year, Dataclay won the startup pitch competition at an Amazon Web Services (AWS) Activate for Startups pitch event held in Austin, Texas. The AWS program provides startups with the low cost, easy-to-use cloud computing resources needed to scale their business. Some of the world's hottest startups leveraged AWS in their early years, including Airbnb, Lyft, and Slack.
With Templater, Dataclay has brought artificial intelligence to the video and graphic design space by combining automation with human creativity. After studying the workflows of graphic designers and post production professionals, Dataclay has taken their thought processes and codified them into algorithms that dynamically compensate for data variations in a virtually unlimited set of data points.
The plugin works by intelligently redesigning layers of the video composite based on the data fed to it from a spreadsheet created in Microsoft Excel, Apple Numbers, or Google Sheets. Beyond those consumer-level software packages, Templater can also read information from remote servers that host such things as enterprise-level databases and customer relationship management (CRM) systems.
And, it's not just the spatial rearrangement of video elements that makes Templater so powerful. The plugin also handles temporal changes by dynamically editing the video's timeline on the fly using Dataclay's proprietary, patented technology.
One of the core benefits of the latest version of Templater is that video creators can easily integrate it into their existing workflows and environments. The API enables a new level of workforce enhancement, allowing users to leverage their resources to develop code that gets the most out of the plugin regardless of the video systems they are using.
"We are excited about this latest release. But, we are even more excited to see what our users will do with Templater's automation capabilities and the powerful tools we've given them," shares Stavchansky. "As we continue to develop Templater, we are also creating a community among our user base. It's important for us to share practical techniques with our users through good documentation, online and email support, as well as video tutorials hosted on YouTube. Additionally, we host a managed forum to facilitate the exchange of helpful information between users."
Learn more about how Dataclay and Templater can automate your digital craft by calling 1-833-DCVIDEO or visiting Dataclay.com.
About Dataclay
Dataclay was founded in 2014 with a simple but important mission: to free video content creators from the inefficiencies of menial data entry, empowering them to develop greater quantities of higher quality content in less time, and with less cost.
Since then, Dataclay's mission has broadened to enable new modes of video communication. We want to improve the way video is created and consumed. We believe in the power of customized video to forge strong connections between video creators and their audiences. These connections facilitate better customer experiences and can enrich the lives of viewers.
Our Templater software isn't just about making video post-production workflows faster and easier—it's about empowering our users to make better videos with richer content experiences. To that end, we offer phenomenal support and a suite of design, production, technical and consulting services to set our customers up for success.
Dataclay and the Dataclay logotype are registered trademarks of Dataclay. Other names, trademarks, registered trademarks, and/or service marks, indicated or otherwise, are the property of their respective owners.