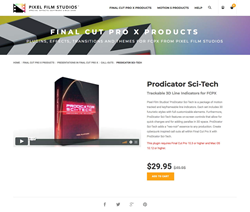 A new FCPX plugin with a stylish cyberpunk edge.
ALISO VIEJO, Calif. (PRWEB) March 15, 2018
ProDicator Sci-Tech is a package of motion tracked and keyframeable line indicators which includes 30 futuristic styles with full customizable elements. Featuring on-screen controls that allow for quick changes and for adding parallax in 3D space, ProDicator Sci-Tech adds a "neo-noir" essence to any production. Create cyberpunk inspired call outs all within Final Cut Pro X with ProDicator Sci-Tech.
This plugin was created for ease and flexibility of the user. Each preset include a left and right aligned design for versatility. These presets will feature customizable prong lengths, colors, targets, and text. Also included with each preset comes glow controls that are easily adjustable. Most of all, ProDicator Sci-Tech comes with a variety of "cyberpunk" inspired designs that results in giving any production an energetic "neo-noir" look.
Final Cut Pro X users can add an extra dimension to production with easy to use on-screen controls. These controls will determine the scale, position, and Y/Z rotation of title elements with the drag of a mouse. Both on-screen controls and all other published controls can be found in the inspector window on the right-hand side of the viewer. Generate incredible parallax in 3D space using the on-screen or published controls.
Included in this package will be both motion-tracked and key-framed presets which promote flexibility and effectiveness. Motion tracked presets make tracking easy with built in auto motion tracker. Additionally, keyframable presets have been included for harder to track scenarios. Each keyframed preset includes a helpful built in magnification tool which can be easily toggled on or off as well as intuitive adjustable zoom amount slider control.
ProDicator Sci-Tech is designed and created from the ground up for Final Cut Pro X editors and users. As a result, ProDicator Sci-Tech is exclusive to Final Cut Pro X.
Matthew, an Editor's Assistant states, "ProDicator Sci-Tech gives our project an energetic sci-fi edge with intuitive controls that are extremely sleek and stylish."
Established in 2006, Aliso Viejo, California-based Pixel Film Studios is an innovative developer of visual effects tools for the post-production and broadcast community. Their products are integrated with popular non-linear editing and compositing products from Apple FCPX. Apple, the Apple logo, Mac OS X, and Macintosh are registered trademarks of Apple Inc. in the U.S. and/or other countries. All other trademarks and trade names are the property of their respective owners.