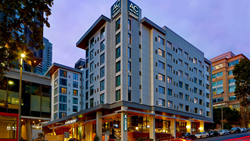 Crescent has extensive experience operating beautiful lifestyle hotels and are thrilled to add the AC Bellevue to our collection
SEATTLE (PRWEB) March 15, 2018
Crescent Hotels & Resorts has been selected to manage the 234 room AC by Marriott Seattle Bellevue/Downtown. Crescent, based in Fairfax, Virginia is a nationally recognized award-winning manager of premier hotels, resorts and conference centers throughout the United States and Canada.
The recently opened lifestyle hotel in downtown Bellevue, WA celebrates classic, modern design. This AC Hotel by Marriott is conveniently located near some of Seattle's most popular attractions, including Pike Place Market and Wine Country.
"Crescent has extensive experience operating beautiful lifestyle hotels and are thrilled to add the AC Bellevue to our collection." said Michael George, president and CEO of Crescent Hotels & Resorts. "Our unique approach as an award-winning Marriott manager and expertise in this unique style of hotel will help to maximize the potential of this great property."
The hotel offers hearty European breakfasts with fresh-baked pastries, yogurts and fruit, as well as free WiFi, in-room workstations, luxury bedding and premium bathroom amenities. Groups can conduct business in distinguished meeting spaces fitted with advanced AV equipment, and all guests can visit the AC Lounge for craft beers, wines & tapas.
For more information, or to book your stay at the AC Hotel Seattle Bellevue/Downtown, visit http://www.marriott.com/hotels/hotel-rooms/seaar-ac-hotel-seattle-bellevue-downtown/ or call (425) 625-2450.
_
About Crescent Hotels & Resorts:
Crescent Hotels & Resorts is an award winning, nationally recognized, top-3 operator of hotels and resorts. Crescent currently operates over 100 hotels, resorts and conference centers in the US and Canada. Crescent is one of the few elite management companies approved to operate upper-upscale and luxury hotels under the brand families of Marriott, Hilton, Hyatt and IHG. Crescent also operates a collection of legendary independent lifestyle hotels and resorts under Latitudes Collection, Lifestyle by Crescent. Crescent's clients are made up of hotel REITs, private equity firms and major developers. For more information, please visit http://www.crescenthotels.com, http://www.latitudesbycrescent.com or connect with Crescent on LinkedIn.