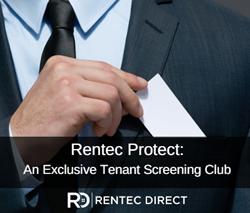 The right tenant screening package means less non-payment of rent, less property damage, less lease violations, and less evictions; Rentec Protect helps landlords and property managers meet all of these needs.
GRANTS PASS, Ore. (PRWEB) March 14, 2018
Rentec Direct, the leading property management software solution for real estate professionals, announced the launch of its new tenant screening solution, Rentec Protect. The new membership-based program draws on the company's years of experience providing property managers with the best credit reports, criminal background checks, and eviction history searches on rental applicants.
"Helping people protect their investment and rental properties is a core part of our business," said Nathan Miller, president and founder of Rentec Direct. "Last year alone, we provided more than 38,000 premium tenant screening packages for our clients. This new solution helps landlords and property managers easily access the information they need on potential renters."
Rentec Protect gives members access to the best screening reports including:
Nationwide Criminal Search which reveals all criminal convictions from the most comprehensive and accurate nationwide database.*
Transunion Credit Report with FICO® score to verify how well the tenants handle their credit, pay their bills, and if they have any collections history.
Nationwide Eviction Search to see if the tenant has had any prior evictions.
Prior Address Search shows the complete address history of the tenant.
SSN Verification to verify the validity of the SSN provided.
Those taking advantage of the new program pay a small monthly membership fee for access to the premium tenant screening package outlined above, plus a complimentary site inspection (required by credit bureaus as of 2018), and discounts on all tenant screening report packages.
For more information, visit: https://www.rentecdirect.com/blog/rentec-protect/
About Rentec Direct
Rentec Direct offers industry leading property management software and tenant screening solutions for real estate professionals. Features include online rent payments, tenant and owner portals, the industry's largest vacancy listing syndication network, full property, tenant, and owner accounting, 1099-MISC reporting, QuickBooks™ Sync and more. Rentec Direct was named to the 2017 Inc 5000 List of Fastest-Growing Private Companies and the 2017 Entreprenuer360 list for Best Entrepreneurial Companies in America. http://www.rentecdirect.com