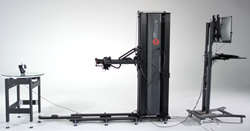 The easy and automated way to shoot 360 spins, 3D product images and professional looking product videos.
PLYMOUTH, Ind. (PRWEB) March 15, 2018
Kessler, the leader in motion control and camera support systems for film, video and photography, today announced the launch of AutoCam360TM line of products and services. AutoCam360TM is a complete solution for automating product photography and video for e-commerce and commercial use with multiple hardware options, software, workflow and support that is made and based in the USA. Kessler has gone beyond the simple conventional turntable (rotation) by adding distance (move in or out), elevation (up or down), angle (tilt) but also with the unique ability to do motorized focus and zoom (with our optional focus and zoom motor kit). Our software allows for precision camera moves, tethered live view, camera controls and DMX lighting control. The AutoCam360TM can be used for short or tall objects by using either the stock rail turntable or our extended turntable option. We have a complete line of accessories as well as stand-alone turntable solutions and a tempered glass center-less turntable. In addition to our new brand of products we are also offering studio services using our AutoCam360TM solutions to users who do not have the space, equipment or personnel to create high quality e-commerce content in-house.
The Online Shopping Experience is Changing and Competitive
As the trend for shopping online grows everyday, websites are adding 360° spins, 3D product views and video to increase user engagement and convert looks into sales. It also helps customers make better purchasing decisions versus static images and gives your customers a better understanding of your products and confidence in what they are buying. 360° spins, 3D product views, pack images and video has become increasingly prevalent in e-commerce as the competition to stand out is at an all time high. With millions of choices of where to shop, 360° spins, 3D product views and video make the online shopping experience better and more desirable for everyone. AutoCam360TM is designed to stay ahead of the curve by delivering a complete and powerful automated solution not only for amazing multi angle product photos but also for professional looking videos.
Keep Brand Consistency on Point
With AutoCam360TM you can precisely repeat and recall camera movements, camera settings and lighting controls. This allows you to keep your product photography and video consistent and on brand, even if the shoots are days apart.
The Perfect Solution for Mom and Pop Online Stores and Creative Professionals
Managing an online retail operation with numerous product lines or brands can be a challenge and with a big push on making e-stores more visual this can be very time consuming if trying to do it manually. The huge upside of being more visual on your store site is that it is shown that 360° spins, 3D product views and video clearly decrease the likelihood of a return. The AutoCam360TM makes the entire process easy by automating it and making it repeatable. AutoCam360TM photographs your products for perfect 360° spins, 3D product views and smooth precise professional video moves in seconds instead of minutes or hours. Making a professional photos and video of your product has never been easier or more affordable.
Automate Your Studio or Use Our Studio
AutoCam360TM is available for purchase to easily automate your existing studio, but if you do not have the time, personnel resources or the space we also offer studio services. Our studio space is large enough to shoot (photo and video) dozens of brands and products sequentially using AutoCam360TM hardware. We have lighting packages , cameras (Nikon, Canon, RED) and dozens of lenses that allow our photographers to shoot almost anything. Simply ship your products to us, we sort and prepare them, we shoot them, provide an approval process, once approved we upload the 360° spins, 3D product views or video and ship back your items. We can set you up for success with an AutoCam360TM system of your own or via our studio services. The AutoCam360TM system is available for purchase or lease.
About Kessler
Since 2003 Kessler has made award-winning, industry leading motion control products and camera support systems for film, video and photography with a commitment to making products in the USA. Kessler manufactures and supports everything they make onsite at its facility in Plymouth, Indiana. Kessler is a customer-centric company that stands behind its products. Our customer's needs are always considered first and our commitment to innovation provides the roadmap to delivering products that can execute in the studio and in the field, day in and day out for thousands of consumers, professionals, and businesses worldwide.
For more information, visit http://www.autocam360.com
AutoCam360TM and the AutoCam360TM logo are trademarks of Kessler Crane, Inc.