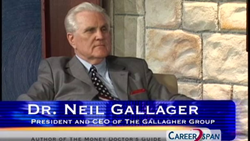 LOS ANGELES (PRWEB) March 14, 2018
On Thursday, March 1st, 2018, Neil Gallagher, President and CEO of the Gallagher Financial Group, spoke at The Executive & Entrepreneurial Leadership Forum at his alma mater Brown University to rave reviews. Over a dinner attended by 50 student leaders and college varsity captains from around the country, Gallagher gave a speech on the topics of his success, failures, wisdom, and his faith journey in life. Gallagher also donated $1,000 to Brown University to put towards the event and the young leaders in attendance.
Sponsored by the Cru (the Campus Crusade for Christ International in the U.S.) the forum was a smashing success, with one attendee Rob, a student senator from the University of Minnesota, saying "the quality and sincerity of Dr. Gallagher was what I liked best. Great advice! I enjoyed hearing his success stories as well hearing how he learned from his failures."
After getting his PhD from Brown University in 1981, Dr. Gallagher became the first man from Rhode Island to join the Peace Corps, serving in NW Thailand as a teacher and medic in leper colonies, for which he received the Foreign Service Award from the Government of Thailand. Following his time in the Peace Corps, Dr. Gallagher became a professor at Texas Christian University teaching Logic and Ethics, and then a professor of Philosophy of Religion and World Religion at the University of Houston.
Gallagher then opted for a career in financial services, serving financial firms in New York and St. Louis before establishing his own office, Gallagher Financial Group, Inc., in Texas in 1990. In a career spanning 31 years he has managed over one billion in assets and served over one thousand clients world-wide with a concentration of clients in Texas and the Southwest.
Currently, Dr. Gallagher hosts a weekly radio show, Family and Financial Fitness, and has appeared several times on the TV series Moving America Forward with Doug Llewellyn and William Shatner. He is also the author of multiple books and publications, which have appeared (among many others) in The Journal of Value Inquiry, Philosophyand Phenomenological Research, The New American, Bottom Line Financial, and World Vision.
As an active athlete, Neil completed the NY City marathon, and now plunges into an outdoor pool every morning regardless of weather. Neil's motto is: "Life is for laugh'n, livin' n' loven' not for whinin' n' worryn'."
More information on the the Executive & Entrepreneurial Leadership Forum can be found here: https://www.e2forum.org/
More information on Doc Gallagher and Gallagher Financial Group can be found at: http://gallagherfg.com/