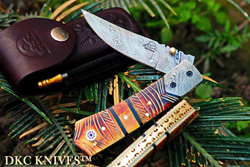 Its not uncommon to see many customers coming back and purchasing multiple sets of knives because of the unique characteristics each knife brings." Knives are works of art and can be enjoyed for a lifetime and be handed down to younger generations
SAN FRANCISCO (PRWEB) March 30, 2018
Whether its Father's Day, Christmas, Birthdays, or any special occasion; it can be hard getting the perfect gift for your dad. Gifts for dads can be challenging, especially when it seems your dad already seems to have everything he needs. It's the easy cop out to get the generic gift for your dad (T-shirt, Socks, coffee mug, ect). A Damascus steel knife is a unique gift for your dad that can be cherished for lifetimes. The beauty of a Damascus steel knife is that it is handcrafted to perfection and have distinct beauty with a variety of designs. Not only is a Damascus steel knife beautifully crafted for performance, its a piece that can be treasured and passed down for generations. The fact is guys love knives, and you can't go wrong with getting Damascus steel knife from DKC Knives for the best gift for dads.
Today Damascus steel knives are coveted by knife collectors around the globe. DKC Knives are affordable and of high quality. Gordon reiterates that, "DKC Knives was founded with a mandate to bring reasonably priced handmade Damascus folding pocket knives, and fixed blade hunting knives to the public at very reasonable costs. Today DKC Knives can be purchased for a relatively modest cost of $60 to $300". DKC Knives has a growing list of collectors that own many of the company's models.
DKC Knives is based in Castro Valley California. The company website is http://www.dkcknives.com. DKC Knives can be follow on Facebook as well as Instagram. Interested parties can sign up for the company newsletter at http://www.dkcknives.com and get updates on new knife releases.