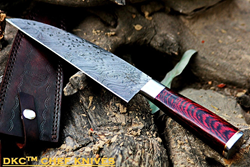 (PRWEB) March 30, 2018
When preparing meals in your home it is essential to use quality kitchen knife. When grading the quality of a knife one must first inspect its blade. The thickness and length of the blade determine whether the knife is fit to filet fish or chop up some onions for a stir fry. DKC knives has a variety of Damascus and stainless-steel blades that cater to every need in the kitchen. In addition to the blade it is also important to inspect to overall craftsmanship of the knife. As a major tool being used daily, it is important to ensure that the kitchen knife is crafted with the outmost quality to ensure that is safe to use. DKC Knives offers a whole line of premium kitchen knives for every fufill every need in the kitchen, and fillet knives made of the highest quality Damascus steel. The knives have a firm and stead grip, to avoid any slippage. Each knife comes with a sheath and sharpening stone so your knife always ready for performance. Fisherman love DKC Knives not only for their quality, but because of their beautiful nature themed designs.
DKC Knives is based in Castro Valley California. The company website is http://www.dkcknives.com. DKC Knives can be follow on Facebook as well as Instagram. Interested parties can sign up for the company newsletter at http://www.dkcknives.com and get updates on new knife releases.