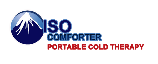 PALM CITY, Fla. (PRWEB) March 14, 2018
IsoComforter, a leader in portable cold therapy products, is pleased to announce its selection of products on Amazon.
IsoComforter is known for its portable cold therapy machine, a device that uses circulated ice water in soft pads to promote healing. With the popularity of its many cold therapy products growing, the company has branched out to sell products on Amazon, making them more accessible to anyone in need of premium cold therapy.
The selection of therapy products available on Amazon includes the cold therapy unit with Iso tube knee pad, the multi-purpose pad, the high wrap, and many more. Accessories are also available, including hospital bed hooks, power adapters, and connectors (used to connect Iso pads). Visit Amazon for a full list of products.
Amazon customer reviews have been very favorable to date, including five star ratings for the Iso tube knee pad and for the cold therapy unit with Iso tube shoulder pad.
To learn more about IsoComforter, visit the company online at isocomforter.com/products. To purchase select IsoComforter products using the ease, flexibility and shipping options of Amazon, visit the company's Amazon page today.
About IsoComforter:
Forget melting bags of ice and messy, mushy bags of frozen peas! IsoComforter provides clean and efficient cold therapy that promotes healing while reducing the risk of infection to the damaged area. All IsoComforter's products are designed to be easy use, clean, carry, wear and maintain. IsoComforter is pleased to have its own cold therapy system that keeps wounds clean and dry with virtually no condensation, and a complete shoulder machine that helps in rotator cuff surgery recovery.
Contact Details:
IsoComforter, Inc.
4215 SW High Meadows Avenue
Palm City, Florida 34990
Phone: 1-877-277-0367
Fax: 1-772-220-6645
Source: IsoComforter, Inc.