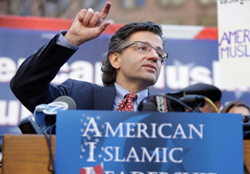 OKLAHOMA CITY, Okla. (PRWEB) March 14, 2018
On Thursday, March 15th, at 10:30am, M. Zuhdi Jasser, President of the American Islamic Forum for Democracy (AIFD), will speak at the "Lunch with the Speaker" series at the Oklahoma City Town Hall. The lecture will be held at First Baptist Church, 1201 N. Robinson, instead of the usual location at St. Luke's United Methodist Church.
Every month, the Oklahoma City Town Hall provides a forum for nationally recognized speakers who, according to mayor Mick Cornett, "enrich, entertain, stimulate, inform and educate our citizens." Past speakers include Col. Allen West, Ambassador John Bolton, and wellness expert David Meinz. "The event enables Town Hall guests to enjoy a wonderful, leisurely lunch with time to interact with our unique and interesting speakers," says mayor Cornett.
A devout Muslim, Jasser founded AIFD in the wake of 9/11 as an effort to provide an American Muslim voice advocating for the preservation of the founding principles of the U.S. Constitution. He is a first generation American Muslim and is leading the fight to shake the hold that the Muslim Brotherhood and its network of American Islamist organizations have on organized Islam America.
Dr. Jasser is the author of "A Battle for the Soul of Islam: An American Muslim Patriot's Fight to Save His Faith." He is also founder of Take Back Islam and a co-founder of the Muslim Reform Movement.
Jasser frequently briefs the House and Senate congressional anti-terror caucuses on the threat of political Islam. He has been featured in The Wall Street Journal, The Washington Times, The New York Post, The Dallas Morning News, CNN, CBS, Fox News, MSNBC and BBC.
Tickets for the luncheon are $25 and are available at the door. For ticket information go to townhallsales(at)gmail.com or call 405-202-4262. Lunch with the speaker immediately follows the lecture at The Dining Hall downstairs. The event will allow guests to interact with the speaker and ask questions. Lunch tickets are $20 each. For luncheon information go to javanhorn(at)cox.net or call 405-755-1417. Updated information is available at okctownhall.com.
For more information on Dr. Zuhdi Jasser, please visit: http://www.mzuhdijasser.com/about