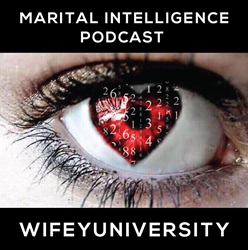 The Marital Intelligence Podcast helps wives win big in the high stakes business of marriage. Get wise @WifeyUniversity Rhonda Coleman Albazie #MarriageIntelligenceMedia
BEVERLY HILLS, Calif. (PRWEB) March 15, 2018
Wifey University announced the launch of their new Marital Intelligence Podcast hosted at https://omny.fm/shows/wifey-university-marital-intelligence and now available on iTunes https://itunes.apple.com/us/podcast/wifey-university-marital-intelligence-podcast/id1358073203?mt=2, Google Play, Stitcher and other major podcast platforms.
The Marital Intelligence Podcast helps wives win big in the high stakes business of marriage. 
Get wise with the following 30-60 minute weekly intel-for-clientele segments :

Ask Wifey University Q&A From Wives In The Field
Threats To Sustainable Marriage
Marital Terrorism  
Marriage Intelligence 
The Internet of Intimacy 
The Alpha Wife Algorithm 
The Science of Oral Pleasure and Smart Sex
Marriage Business Plans
Marriage Metrics 
Wifey Coaching
Wife Wealth 
Data Science of Dating and Marriage 
Marital Challenges and Conflict Do-Overs
Be Your Own Marriage Therapist
Techno-Erotica Digital Storytelling 
Wifey MOODS Mechanical Emotion and Sentiment Analysis 
Wifey Meets Hubby Matchmaking
M&A Marriage
Sustainable Marriage Salutes 
Helping Your Husband Succeed
Husband Care
Husband Hacking 
Wifey University Online Training, Webinars, Live Seminars 
Divorce Recovery
Wifey Retreats
Wifey Events 
Wifey University.com delivers market intimacy on marriage intelligence and is the world leader in executive wife training, sustainable marriage engineering, wifey coaching, wife wealth, marriage intelligence and analysis, marriage metrics, marriage business plans, husband care, helping your husband succeed, husband hacking, inlaw-a-nomics, marital legacy project management, divorce recovery, wifey start-ups and entrepreneur development, wifey meets hubby matchmaking, data science of dating and marriage, high iq hook-ups and more.
Wifey University has been the best kept secret of thriving marriages of the interlocked network's elite, high net-worth, celebrities, socialites, power, trophy, political and executive wives. Now, Wifey University's curriculum, coaching, retreats, branded products and technological solutions are being made accessible to wives and other women worldwide to empower, protect and optimize women and children, strengthen the institution of marriage and create strong families.
Wifey University's Marital Intelligence Podcast is hosted by Rhonda Coleman Albazie, maverick marriagepreneur and alpha wife with 3+ decades of divorce proof sustainable marriage engineering and executive husband management success to a retired and decorated U.S. Navy Officer.
Coleman Albazie is the #1 Wifey Coach to executive wives of the world's happiest, healthiest and wealthiest marriages; Founder and Head of School at Wifey University and CEO of the Wifey Companies portfolio: Marriage Business Plans, Marriage Metrics, Wifey Meets Hubby Matchmaking, Wifey Retreats, Wifey Destination Weddings, Wifey Wedding Planning, Wifey University Branded Products, Wifey Wines, Wifey Kitchen and Meal Delivery, Wifey STEM Staffing and Recruiting, Wifey Start-Ups, Entrepreneur, Investing and Mentoring Hub and Wifey University Public Speakers. She's also an accomplished new author with a series of provocative, fiction and non-fiction marital intelligence books due out in the spring/summer 2018. Her credits also include leading roles as phenom mom, marriage and family consigliere, ai, machine learning, robotics developer, data scientist, brain optimization researcher, writer, producer, voice over artist, public speaker, actress and filmmaker at Marriage Intelligence Media.
Coleman-Albazie's proprietary Marriage Business Plans, Marriage Metrics and Wifey Meets Hubby Matchmaking are powered by smart technologies including ai, machine learning and data science. 
Married women, wives, wifeys, brides, engaged and discerning women, girlfriends, lovers, significant others, divorcing women, ex-wives and others get wise at WifeyUniversity.com, the prestigious, global institution which offers online training, webinars, live seminars, automated video training and on campus training at the class "A" bricks and mortar campuses in Beverly Hills, California and New York, New York. Wifey Coaching, Marriage Business Plan consulting, Wife Wealth and Wifey University alumni events, slumber parties, philanthropic, formal balls and bridal events compliment the portfolio to help wives win big in the high stakes business of marriage. 
Intelligent wives are the experts of their marriages. Wifey University is the world leader in sustainable marriage engineering, executive wife training, marriage intelligence and analysis, husband hacking, marriage business plans, marriage metrics and wife wealth. Together we partner with women in their visions of a dream marriage, self expansion and optimization to help them create lives that they absolutely love. Our clients gain empowerment by leveraging our proprietary marriage intelligence, marriage metrics and proven sustainable marriage systems backed by decades of sustainable Alpha Wife marriage successes.
Executive Wife Training helps wives make intelligent and strategic data driven decisions related to dating, marriage, mating, reproduction, relationship maintenance, investments and finances including mastering the datasets, predictive and behavioral analytics, logic trees and risk analysis required for precision mate selection, negotiation and conflict resolution and closing solid mergers and acquisition marriage deals, eliminating incompatible or high risk mates, relationship regret and divorce by over 87%. Get wise at Wifey University, Marriage Intelligence Media and Wifey Retreats.
Get wise. Subscribe, download and post a review of the Wifey University Marital Intelligence Podcast for a chance to enter to win a 5-star luxury Wifey Retreat women's wellness experience in Maui, Hawaii or Monarch Beach, California. Indulge. Reset. Optimize. Get wise. 
http://wifeyretreats.com/wifey-retreats/enter-to-win-wifey-retreats-marital-intelligence-podcast-contest/ 
Contact Information
Rhonda Coleman Albazie, CEO, Head of School, #1 Wifey Coach, Podcast Host
Wifey University | Marriage Intelligence Media | Wifey Retreats
Wifey University
Marriage Intelligence Media
Wifey Retreats
(888) 688-9433 Ext 10
Elle Dreyfuss, Marriage Intelligence Media PR
(888) 688-9433 Ext 7
Websites
wifeyuniversity.com
marriageintelligencemedia.com
wifeyretreats.com
Social Media
https://www.linkedin.com/company/wifey-university/
facebook.com/wifeyuniversity
twitter.com/wifeyuniversity
instagram.com/wifeyuniversity