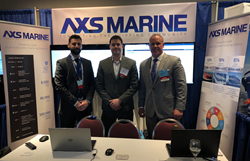 Stamford, CT (PRWEB) March 14, 2018
AXSMarine, the market leader in online maritime software as a service (SaaS), took part in Connecticut Maritime Association (CMA) Shipping 2018 this week. The company presented its expanding suite of web tools, refined databases and analytical solutions, while also announcing their new office in Stamford, CT.
CMA Shipping 2018, North America's premier international shipping trade conference and exhibition, gathered the shipping community during its 33rd annual event held on 12-14 March 2018. A major exhibitor at the event, AXSMarine presented its already established tools for the dry, tanker and containership markets. The company, which has a strong reputation in the global maritime community, took the opportunity to feature some if its recently introduced solutions too.
One of their latest additions, AXSDry Cargo Book, is a cargo/ vessel matching solution allowing management of private and market orders, bid/ offers monitoring, instant chat room and sharing facilities with business partners. Another recently launched, innovative tool is AXSMail, a collaborative email solution for shipping professionals around the world, enabling increased workflow flexibility and efficiency, offering both private and team work environments.
Besides presenting its new solutions, AXSMarine used the occasion of its CMA Shipping 2018 participation to announce its just opened Stamford, CT office. "I'm extremely happy we have opened a physical office here, it was way overdue. The US & Canada is extremely important to us. We have been servicing our clients with regular visits from London & Singapore for many years though we have always known we would eventually need an office here. We have employed Phillip Sissener as our Sales Director, a great guy, and a perfect fit to lead the growth of our client base and our team in this part of the world," said Steve Fletcher, Chief Commercial Officer of AXSMarine.
AXSMarine, established in 2000, currently provides hundreds of companies, charterers, shipbrokers and operators with cutting-edge web tools and efficient data management to streamline their day-to-day chartering activities, adding powerful, extremely rewarding analytical packages. Its users benefit from a unique integration of shipping data with a strategic industry understanding, leading to more efficient decisions.
---------------------------------------------------------------------------------------------------------------
Founded in 2000, AXSMarine is a global provider of online software solutions to the international shipping industry and is trusted by more than a thousand companies worldwide. Its software solutions deliver remarkable efficiency to commercial chartering processes in Dry, Tanker, S&P, Offshore and Containership chartering. These products provide a suite of modules, which allow shipping executives to fully analyse their commercial and operational activities. All web-based, services are accessible from any computer, anywhere; without additional downloads or installation. AXSMarine online tools are secure, fast and easy to use. With AXSMarine, shipping industry professionals can transform a massive overload of raw data into useful, searchable information. As a result, they can work faster, manage more efficiently and plan better. The company is headquartered in Paris, France and operates offices in London, Singapore, Sofia, Bulgaria, and Stamford, CT. To find out more, please visit: http://www.axsmarine.com