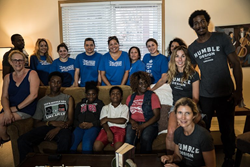 We are very excited to partner once again with Humble Design to create a home for a family. Last year during our Day of Service we truly realized the power that we have of changing lives, and we can't help but be excited to do it all over again
Chicago, IL (PRWEB) March 16, 2018
Founder and executive director of Jusino Insurance Services, Lisa Jusino, is announcing a charity drive taking place in the northeastern Illinois region over the next few months to help improve homes for low income families. Donations will be provided to Humble Design, a nonprofit that provides personal items, toys, and furnishings as low income families move into new homes.
"We are very excited to partner once again with Humble Design to create a home for a family. Last year during our Day of Service we truly realized the power that we have of changing lives, and we can't help but be excited to do it all over again," said Jusino.
The firm is also reinitiating the community-driven donation program used during the last charity event. For each person referred into Jusino Insurance Services during this charity drive to receive a no cost insurance appraisal, the firm will make a direct donation to Humble Design.
Readers that want to know more about how to support this charity event are invited to visit this page: http://jusinoinsuranceservices.com/rewards/.
About Jusino Insurance Services
Elizabeth Jusino has been with Allstate for over 25 years. Her tenure and experience has allowed her to not only understand the ins-and-outs of insurance, but also to service hundreds of families regarding a full range of protection needs. Elizabeth and her team of experts are committed to helping clients protect the things that are important – family, home, car, boat and more. The Jusino Insurance team can also help clients prepare a strategy to achieve their financial goals. To contact an expert at Jusino Insurance Services, visit http://www.jusinoinsuranceservices.com/ or call (312) 850-0775.