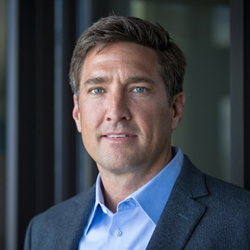 I'm excited to leverage my previous strategy and alliance experience to accelerate the growth and adoption of Big Squid's Machine Learning platform. - Mark Dillon, SVP Strategy & Alliances
SALT LAKE CITY (PRWEB) March 14, 2018
Big Squid, Inc., the Silicon Slopes-based startup that automates the power of Machine Learning and Predictive Analytics for business users through its Kraken Platform announces the addition of Mark Dillon to its executive team as Senior Vice President of Strategy and Alliances. With over 20 years of experience in enabling software companies to accelerate growth, Dillon will develop and execute on the reach of Big Squid's Machine Learning and Predictive Analytics platform. Dillon joins Big Squid after six successful years as the senior vice president of channels at Domo. While at Domo, Dillon was responsible for building the enterprise and channel sales teams. During his tenure, he was instrumental in developing relationships with several Fortune 100 companies and strategic partnerships. Before Domo, Dillon spent nearly a decade as senior vice president of worldwide channel sales at Omniture, which was later purchased by Adobe Systems. There he built the organization's global partner sales department, working with the world's top agencies, system integrators, and technology partners. His efforts earned the program the prestigious VARBusiness Five Gold-Star Ranking and Dillon the VARBusiness Channel Chief. "For the last 20 years, I've watched companies figure out how to leverage their massive data assets to build real-time insights, even making them mobile," said Dillon. "Now that these companies have figured out what's happening, the focus is turning to ML and AI to discover additional insights from their data, to affect and elevate their success. While Big Squid hasn't yet created a connection to the future, we've gotten much closer through the release of Kraken. I'm excited to leverage my previous strategy and alliance experience to accelerate the growth and adoption of Big Squid's Machine Learning platform." "Mark inherently understands how to build relationships and partnerships that will accelerate and enhance Big Squid as a business," said Chris Knoch, Big Squid CEO. "Partners and most importantly, customers, are at the forefront of how he steers his vision." He continued, "I have known Dillon and worked with him in several different capacities over the last decade; the entire Big Squid family is thrilled that he has joined our team to help us further architect and execute our partnership and alliance programs."
If you would like more information about this topic, please contact Melissa Kirkeide, Director of Marketing at Big Squid, Inc. - 312.662.3585 or email at mkirk(at)bigsquid(dot)com.
About Big Squid, Inc: Founded nine years ago, the unique architecture and capabilities of Big Squid's Kraken platform put the power of predictive analytics and machine learning into the hands of the business user and decision maker. This allows organizations to gain insight into future trends and act with greater certainty; while leveraging existing data & analytics teams and technology. With Kraken, organizations can construct machine learning models to forecast key business metrics and explore different "what if" scenarios they can take to make smarter decisions, faster. The platform enables data analysts to become Citizen Data Scientists, giving organizations the ability to scale scarce Data Scientist resources across their business. Recognized as an Honorable Mention for the 2018 Gartner Magic Quadrant for Data Science and Machine Learning Platforms, based on its automated machine learning to forecast the movement of key business metrics through its Kraken platform.