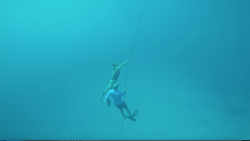 'I'm truly excited to bring this new adventure into the Ocean Soul brand.I met and freedived with Cedric Lesenechal, our on board Indonesian Archipelago expert, I knew this was a marriage of disciplines too good to overlook.'
(PRWEB) March 16, 2018
Bali-based wellness retreat, Ocean Soul Retreat is thrilled to announce the launch of its newest offering: Freediving &Yoga Retreats.
From June 8th until June 14th, 10 guests will sail through the Komodo National Park on a 30m traditional Indonesian Phinisi to learnt the finer points of Freediving and breath focused yoga in the beautiful, clear blue waters of the Indonesian archipelago. Ocean Soul Retreat designed the program to encourage mindfulness through breath immersion, not only in an environment that forces retreat – goers to fixate on little else but ones breath, but immersion in the beautiful waters of the Flores Sea. Open to both men and women, this uniquely challenging retreat will not only have freediving theory and open water lessons, it will also provide guests with the necessary requirements for AIDA certification.
To encourage the fixation on ones experience, Ocean Soul looks after your every need during your stay and exceeds expectations by indulging guests with 3 sumptuous meals a day, prepared freshly by a dedicated chef, with locally sourced seasonal fruits and vegetables. The menu not only tastes 5 star, it's nutritious and good for you, with afternoons filled with sun downder snacks and juice blends for cocktails. The incredible accommodation is a blend of private and shared cabins for solo or couple travellers all with their own private en suites. A range of other activities will be available to allow the guests to fully experience the natural wonders of the UNESCO World Heritage Marine Park. The marine park is in the world famous 'Coral Triangle' which contains some of the richest biodiversity found anywhere on the planet. Guests will be swimming with Manta Rays and visiting the famous Pink Beach and stunning Padar Padar Island.
Daily Yoga will be the bedrock of our cruise and underpin the Freediving experience. Our on board Yoga Instructor will be teaching daily classes and catering to all levels of fitness and experience, to enhance the focus on the breath, which will be used to great advantage for the Freediving sessions.
Most guests will attain underwater depths they never believed possible, all under the guidance and tutelage of our on board instructor and expert diver.
Owner/Manager of Ocean Soul, Georgie White said, "I'm truly excited to bring this new adventure into the Ocean Soul brand. I've been curious about freediving for many years and when I met and freedived with Cedric Lesenechal, our on board freedive instructor and Indonesian Archipelago expert, I knew this was a marriage of disciplines too good to overlook. Our guests are in for the adventure of a lifetime, one they will find hard to forget, one for the adventurous soul that wants to experience life and challenge on their holiday. I'll be in board to look after the guests every need, I wouldn't miss it for the world," she said.
With packages starting at a very affordable $2,400 USD per person, the Freediving and Yoga Retreat invites adventure seekers and wellness lovers to not only unplug but to also travel inward.
For more information or interviews contact Georgie direct + 613 9013 7758 or at hello@oceansoulretreat.com
ABOUT OCEAN SOUL RETREAT: Throughout the year, Ocean Soul Retreat offers weeklong retreats in Bali centred around four key areas: wellness, nutrition, yoga and surfing. Founded by Melbourne-native Georgie White, Ocean Soul creates a restorative environment for like-minded women to come together, recharge and reset in a luxurious villa nestled in Seminyak. Retreats are made intimate by capping registration to only 10 guests. This cultivates meaningful connections among attendees, which results in friendships that endure beyond the retreat. The retreat leaders, who are on hand and facilitate workshops, healings and body movement exercises for an experience that's all together transformative, further emphasize a sense of community.
Attendees are to choose from the Pilates program, Wellness program, Surf Program or Yoga Program, all of which include six nights' accommodation. The Freediving and Yoga retreat is the freshest among the packages, and will only be held once in June 2018.
Learn more at: http://www.OceanSoulRetreat.com