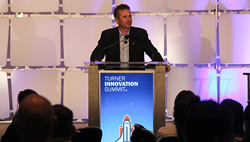 The Innovation Summit is a key component the innovation infrastructure driving Turner's long-term strategy and it supports the goal of making Turner an ever-better builder and an ever-stronger partner to its clients
SACRAMENTO, Calif. (PRWEB) March 15, 2018
Turner Construction Company held its fourth Innovation Summit at the iconic Kennedy Space Center in Florida. The event brought 200 Turner employees together with business and thought leaders, to present and discuss research, exchange ideas, collaborate, and promote a culture of creativity, and continuous improvement.
Showcasing innovative technologies, processes, and practices that are reshaping our company, our industry, and the world, the 2018 Summit included a creativity-building exercises, and technology demonstrations from visionary thought leaders.
During opening remarks at the Summit, Turner President and Chief Executive Officer Peter Davoren, encouraged people to think differently and search far and wide for innovative solutions. He encouraged participants to bring back ideas back to their job and share them with their colleagues, saying, "Be a leader when it comes to learning, innovation and continuously improving. This will grow your stature within the company and make Turner a better company."
Blue Origin Orbital Launch Director Scott Henderson discussed their company's approach to radically transform space travel and achieve their vision to someday "see millions of people living and working in space."
NASA legend and Apollo 13 Commander, Captain Jim Lovell delivered the Summit's keynote address, including a firsthand account of his storied career in the space program—he crewed three missions before the fateful Apollo 13, including Gemini 7, Gemini 12, and Apollo 8—and reflections on leadership, problem solving, creativity, and taking decisive action.
Liz McCartney and Zack Rosenburg, co-founders of SBP -- a disaster relief, resilience, and recovery organization, and this year's recipient of the Henry C. Turner Prize for Innovation—discussed their approach to shrinking the time it takes to get families back home, and into a sense of normalcy, after a disaster. And Turner's Lean Managers led a collaborative work session with SBP to explore approaches to further reduce the time and cost of rebuilding.
Winners of Turner's annual Innovation Award Program presented Virtual and Augmented Reality-based solutions implemented on Turner projects. The teams developed applications of this cutting-edge technology, including for design visualization to inform better decision making; creation of virtual mock-ups for construction; and immersive, real-world physics-based safety training to name a few.
The program also included featured presentations on ecosystems of innovation from Terry Howerton, chief executive officer of venture development firm TechNexus; on robotics from Jeff McGrew, co-founder of Because We Can, an architecturally driven design-build studio; a project team from HOCHTIEF presented their unique approach for managing logistics on a large transit tunnel project in an urban environment; and the emerging economy of space from Rob Mueller, NASA Senior Technologist.
"Together with the Innovation Award Program, the Turner Prize for Innovation, and a number of other innovation and improvement-related initiatives held throughout the year, the Innovation Summit is a key component the innovation infrastructure driving Turner's long-term strategy," said Jim Barrett, vice president and chief innovation officer. "It supports the goal of making Turner an ever-better builder and an ever-stronger partner to its clients."
About Turner Construction Company
Turner is a North America-based, international construction services company. Founded in 1902, Turner first made its mark on the industry pioneering the use of steel-reinforced concrete for general building, which enabled the company to deliver safer, stronger, and more efficient buildings to clients. The company continues to embrace emerging technologies and offers an increasingly diverse set of services. With an annual construction volume of $11 billion, Turner is the largest builder in the United States, ranking first in the major market segments of the building construction field, including healthcare, education, sports, commercial, and green building. The firm is a subsidiary of HOCHTIEF, one of the world's leading international construction service providers. For more information please visit http://www.turnerconstruction.com.