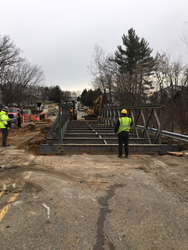 "Mabey's temporary bridge provided KCRC with a cost-effective solution that enabled us to expedite the restoration of traffic along the roadway until the replacement project begins." - Wayne Harrall, KCRC Deputy Managing Director of Engineering
ELKRIDGE, Md. (PRWEB) March 15, 2018
Since September 2017, Alpenhorn Drive between York Creek Drive and Chasseral Drive NW has been consolidated to one lane of alternating two-way traffic due to a deteriorating culvert, which was scheduled for replacement later in 2018. On February 22, KCRC deemed closing the roadway in the best interest of motorist safety after further deterioration was detected and concerns were raised over its structural integrity.
Within days of being contacted, Mabey Inc. was able to provide a solution to this emergency road closure at the direction of the KCRC. A Mabey Universal Temporary Bridge System, which spans 73 feet in length, is currently being installed over the culvert. The installation of the temporary bridge will take approximately two weeks and will allow the roadway to accommodate one lane of alternating two-way traffic until the culvert is replaced later this year.
"Mabey's temporary bridge provided KCRC with a cost-effective solution that enabled us to expedite the restoration of traffic along the roadway until the replacement project begins. We are thankful for the three-day shipping and especially for Mabey's supervisor being on-hand during the first day of installation," said Wayne Harrall, KCRC's Deputy Managing Director of Engineering.
The Mabey Universal Bridge System uses our deepest and longest modular panels to create heavy-duty panel bridges with clear spanning capabilities of up to 265 feet. The heavy-duty modular design provides a unique combination of strength and versatility, along with excellent fatigue resistance, making it the ideal solution for projects like this.
###
Mabey is a leading international bridge and engineering services specialist combining engineering excellence with expert design skills. We help deliver infrastructure projects more safely, quickly and efficiently across the road, rail, utilities and construction sectors. Our engineering capabilities also include design and provision of temporary works including propping and jacking systems, environmental monitoring services, excavation shoring and composite matting for temporary roadways and turf protection.