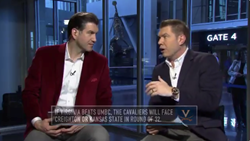 "As the only national sports network originating from the Midwest, we're extremely excited with the quality, location, and visibility of our new home," said Jason Coyle, CEO of Stadium.
CHICAGO (PRWEB) March 20, 2018
Stadium, the industry's only 24/7 all-platform sports network, officially unveiled its new studio and expanded office space in the atrium at Chicago's United Center this week. Positioned in a highly trafficked and visually prominent area of the sports arena and event space, the new Stadium studio gives United Center visitors from across the world a direct view into the workings of the industry-leading sports network.
Built with the flexibility to transition between a polished news desk setting and a more casual, intimate interview lounge for conversations with on-set visitors, the new studio marks another step in Stadium's programming and production evolution. The set, built by artform*, is customizable and adaptable to accommodate a wide range of show formats in addition to news programming. Stadium plans to create more than 1,000 hours of live, original studio programming from the new space in its first year, in addition to its live and classic games and other programming initiatives.
"As the only national sports network originating from the Midwest, we're extremely excited with the quality, location, and visibility of our new home," said Jason Coyle, CEO of Stadium. "The location embeds Stadium in the middle of the action and further reinforces our unique perspective on the national conversation."
"The United Center is a first-class operation in every conceivable way, and we are honored to be part of it," Coyle added. "We are grateful to the United Center staff for their professionalism and courtesy displayed throughout this process."
In addition to the new studio, Stadium has opened its new office space in the facility, specially designed to serve the needs of a network built for the current media landscape. The facility houses Stadium's master control operation and integrated control rooms servicing both the live studio and live events operations, as well as an open, collaborative work space environment that spans the facility's eastern end, offering dramatic views of the Chicago skyline.
Stadium, which launched its linear, 24/7 operation in August 2017, has significantly increased its distribution footprint and is now available via free over-the-air broadcast to over 75 markets (representing more than 58% of the country and over 18 million homes) and retransmitted to 25 cable markets nationwide. In addition, Stadium continues to add exciting distribution platforms to an already extensive lineup of outlets including WatchStadium.com, the Stadium iOS, tvOS, Android TV and Android mobile apps, Twitter (@WatchStadium) and dedicated channels on Roku and Pluto TV. A full list of channels and ways to watch Stadium can be found here: https://watchstadium.com/where-to-watch/.
Over the next several weeks, Stadium plans to make further announcements with respect to the launch of additional television and digital distribution platforms and partnerships as well as additions to its programming and talent roster.
ABOUT STADIUM
Stadium is the original multi-platform sports network featuring exclusive live and on-demand games and events, extensive highlights, classic games, original programming, and daily live studio programming. Stadium includes a 24/7 linear feed distributed across both digital and broadcast platforms, as well as a comprehensive array of on-demand (VOD) digital content including additional live games and events. Stadium is owned by a collection of industry leaders including Sinclair Broadcast Group, BAMTech, the NHL, the PGA TOUR, and Meredith Corp. To learn more, visit: http://watchstadium.com/.