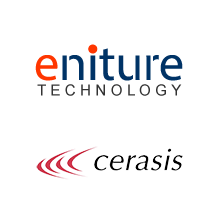 We have been able to expand into other carts that were not previously possible and are looking to move into more carts in the future. I believe we are on the cusp of an LTL/e-commerce boom and to have a partner like Eniture working with us makes this easier and gives us a greater chance as success.
Eagan, MN (PRWEB) March 15, 2018
North American third-party logistics provider (3PL), Cerasis in partnership with Eniture Technology, brings automated LTL e-commerce shipping solutions to the world, reducing delays and costs for shippers working with items requiring LTL shipping.
The pairing will provide relief to shippers experiencing common problems in e-commerce sales when freight exceeds the standards for parcel or falls beneath the needs of white-glove logistics. Problems grow exponentially for shippers using traditional LTL shipping options, including:

Inability to connect major shopping carts to a transportation management system (TMS) that handles LTL.
Subpar LTL e-commerce portals that make LTL shipping management complicated, costly and time-consuming.
E-commerce sites that require a call-back for freight over 150 pounds after checkout to find out freight shipping versus seeing actual freight shipping costs at the time of checkout and receiving a tracking number immediately.
Disconnects between systems designed to handle traditional shipping and those built for the data processing and speed of an e-commerce platform.
Shippers are seeking to open new channels to sell directly to consumers, offering lower price points and bringing a wider diversity of products to the global market. The variety of shipping options, including LTL, full truckload (FT), parcel and last-mile delivery services, has led to many systems designed to work independently, but this disconnect further diminishes the customer experience.
The solution to these problems lies in integrating the world's major e-commerce shopping carts, including Woo Commerce, Shopify, Magento, Prestashop, and Magento 2, with a TMS capable of handling all shipping needs, especially LTL freight, like the Cerasis Rater. Using the Cerasis Rater, shippers will have renewed end-to-end visibility in LTL freight shipping, as well as access to the full lineup of Cerasis services, including:
Increased customer experiences and revenue by tapping into the e-commerce channel around the world.
Offering different shipping options, putting power to decide shipping costs and time of delivery in the hands of consumers.
Freight claims handling and processing, reducing risk and increasing shipper peace of mind.
Gaining control and visibility of LTL freight via the Cerasis Rater, while allowing shippers to streamline all shipments for al surface transportation modes and essential transportation functions, including final-mile delivery, white glove service, and reverse logistics.
Access into total landed costs for surface transportation spend, allowing shippers to make data-based decisions, consider new features and services for customers, like offering free shipping on certain purchases, create administrative rules to ensure the lowest-cost carrier is chosen, or allow customers to override the system to select a preferred carrier.
This innovative partnership and Eniture Technology's experience in API integrations will break down the barriers to affordable and accessible LTL shipping for the world's major shopping carts, and shippers can finally focus more on selling product, not just shipping product.
Jerel Byrd, Development Manager of Cerasis, summed the partnership up quite simply: "Eniture aligns perfectly with our core values and has been great to work with. They offer great technology and support for customers. We have been able to expand into other carts that were not previously possible and are looking to move into more carts in the future. I believe we are on the cusp of an LTL/e-commerce boom and to have a partner like Eniture working with us makes this easier and gives us a greater chance as success."
In another statement, Paul Birkhead, CEO of Eniture Technology reiterated excitement over this partnership, "Cerasis is uniquely committed to the e-commerce market space. As online B2B transactions grow, and B2C companies expand catalogs to include products ill-suited for parcel networks, a need for effective LTL e-commerce solutions has emerged. The Cerasis / Eniture Technology partnership has resulted in several such solutions and we are thrilled to be a component of Cerasis' comprehensive strategy to meet the needs of online merchants."