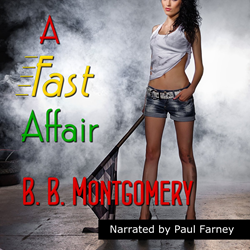 GOODYEAR, Ariz. (PRWEB) March 16, 2018
Phoenix residents author B.B. Montgomery and narrator Paul Farney have teamed up to bring Montgomery's "A Fast Affair" to the audiobook format.
It is the first collaboration for the pair, who plan to release several more of Montgomery's novels in this format by the end of this year. The pair have been working together to bring these exciting novels to life in different formats, and are thrilled with the release of this book.
"A Fast Affair" is the story of a troubled female racecar driver, who uses the tragedies of her past to fuel her desire to win and make it to the top of the sport. Along the way, she meets a particularly enigmatic challenge in a fellow competitor who is struggling with demons of his own. The magnetic attraction they feel toward each other is the real race they must win.