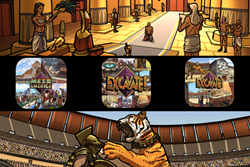 These games provide a high-quality resource for educators across their full world history curriculum and these bundles will enhance teachers' abilities to make use of them.
BETHESDA, Md. (PRWEB) March 22, 2018
DIG-IT! Games, an independent developer of award-winning educational games and interactive learning tools, today introduces special bundles for their Excavate! social studies and archaeology series. Fill your world history classroom with dirt- or, historical facts, that is!- using the C3-aligned gameplay of the Excavate! games over multiple civilizations. Focus on MesoAmerica with the Maya, Aztec, Inca Education Games bundle, dive into Rome, Greece, and Egypt with Excavate! Classics, or dig up all six Excavate! games for a discounted price. These bundles are only available through the Apple App Store and through the Dig-It! website.
These games are designed by former middle school teacher and DIG-IT! Games CEO Suzi Wilczynski. The games aim to take kids on archaeological adventures around the world and back in time, providing an experience that is both entertaining and educational.
"We hope that the introduction of these game bundles will help teachers use Excavate! across their entire world history curriculum, integrating the games throughout the school year," says Wilczynski. "These games provide a high-quality resource for educators to engage students in social studies, with the new bundled purchasing options providing for deeper integration of these products in lesson plans."
Using archaeologists' tools, players will uncover real artifacts from ancient cultures. The games get players immediately in the dirt evaluating the proper tool to use while learning about the scientific process of excavation. Players are exposed to concepts such as stratigraphy, context and the importance of proper recording. Analysis then takes center stage as players learn about the significance of the artifacts they collect and the processes involved in gaining a deeper understanding of ancient people through material culture. Each civilization includes 3D artifacts and detailed illustrations of ancient life to immerse the user in the ancient culture.
"Dig-It! Games' Excavate! series...are a perfect way to get a little deeper into the cultures through exploring the artifacts that are dug up in the course of the game," says Susan Honsinger, a teacher from Fort Walton Beach, FL. "[My students] loved collecting artifacts and finding out more using the journal feature."
The three bundles give more options for getting in to Excavate! and related games. The Maya, Aztec, Inca Education Games bundle for $3.99 offers Excavate! MesoAmerica along with the game 3 Digits which teaches students the Mayan number system. The Excavate! Classics Bundle at $9.99 focuses on some of the more popular Excavate! games with Greece, Rome, & Egypt packaged together. Finally, all six Excavate! games can now be purchased together as a complete set for $18.99.
These educational games are suitable for grades 3-8 and correlate to Common Core State Standards (and equivalents) for ELA and The National Council for Social Studies C3 Framework. The games include the new educational game/app learning analytics standard GBLxAPI, improving learning data reporting in educational games and applications. All current and future versions of Excavate! games now include HTML5, iOS and Android versions. They are available immediately at the Dig-it! Games website store and the respective app stores.
About DIG-IT! Games: Dig-It! Games is an award-winning, mission-based game development studio dedicated to creating games that encourage kids to explore the world around them. Founded by professional archaeologist and former middle-school teacher, Suzi Wilczynski, Dig-It! Games develops educational tools that promote critical thinking, independent learning and cultural understanding. All games incorporate age-appropriate content in math, science, social studies and language arts into fun interactive and engaging learning experiences.
Learn more at DIG-IT! Games: http://www.dig-itgames.com
Social Channels:
Twitter: http://twitter.com/digitgames
Facebook: http://www.facebook.com/DigitGames