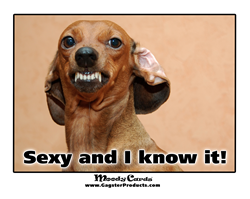 Just by displaying the card on your desk you get instant stress relief...
ST. PETERSBURGH, Fla. (PRWEB) March 16, 2018
Latest dog desk flip chart a big hit at the office.
The newest cards feature a variety of original dog photos with accompanied messages. Each booklet has over 20 flip-card images of various breeds in different postures and attitudes.
"Their expressions are great," says Marty Gagnon creator of MoodyCards. "Some dogs are angry, some happy, tired, lazy…pretty much everything you would experience during a regular work day."
Used as a desk decoration, the cards reveal a person's disposition throughout the day via the dog pictures and messages. Each card embodies what one may be doing, thinking or feeling through the dog's expressions and the card's written message.
"It's just amazing how we can relate to our pets," says Mr. Gagnon. "It's why these cards work so well, you can instantly connect to the dog pictures and get a good laugh while you're at it!"
The dog cards follow previous versions of Moodycards by having an office theme to them.
"We spend most of our days at the office, working in one capacity or another," says Mr. Gagnon. "During the day we go through a gamut of feelings that we can't always express out loud. These cards help you do exactly that; tell people what you're thinking or feeling without having to say one word!"
Each booklet contains a dog photograph with a unique attitude, mood and funny note that reflect an office setting. The cards include messages such as: Longest Day Ever, It's Friday, I'm New, In a Meeting, On a Break, I'm Swamped, No More Carbs, I Bite etc.
"If you're just having a bad day, feeling stressed or just want to be left alone… what better way to tell your colleagues how you're feeling through the picture of an angry bulldog!" says Mr. Gagnon. "Just by displaying the card on your desk you get instant stress relief!"
A best seller on Amazon.com, the booklets make for a very popular office gift.
What on earth do you buy your coworker? Someone you barely know or even want to know…well, you buy them Moodycards! These card are perfect funny gifts, they really are. They are fun and original and spice up your workplace. We have many executive or team leaders that purchase large quantities of our cards to distribute to their personnel. It's actually very funny when everyone has a different Moodycard on their desk. It just makes for a better work environment.
"In then end, our mission with these cards has always been simple; to brighten up your workplace, and bring a little entertainment to your day."
Moodycards are currently sold exclusively on Amazon.com.
For more information, contact
MoodyCards c/o WebGage Commerce Inc.
748 - 916 West Broadway
Vancouver, BC, Canada,
V5Z 1K7,
604-345-4247.
Email support(at)moodycard(dot)com
or visit http://www.moodycard.com.
About Moodycards
In 2011, A natural born prankster Marty Gagnon funneled his brand of humor through the creation of Moodycards. The mission was simple; make people laugh at the office. Moodycards now offer 5 different versions of