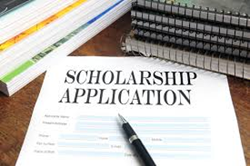 TORONTO (PRWEB) March 19, 2018
Consolidated Credit is proud to be offering a 2018 Scholarship Program to help students struggling with debt. At Consolidated Credit, we know how stressful student debt can be and we want to help! So we'd like to provide an opportunity for students to pay off some of their student loan debt and cover the costs of higher education like tuition and books.
"Managing student loan debt can be difficult and stressful for borrowers and we see the importance in helping students around this time of high costs," says Jeff Schwartz, Executive Director of Consolidated Credit Counseling Services of Canada. "We want to help students cover some of the costs of university education and help start their career on the right foot, without massive debt loads."
The 2018 Consolidated Credit Counseling Services of Canada Scholarship Program will award $1000 to the student with the best essay. Students entering must either: be currently enrolled in a Canadian College or University, either have graduated from a Canadian College or University within the past one year or have been accepted for admission into a Canadian College or University for a program starting in 2018. The deadline for submitting the essay for entry is April 9th, 2018 and the scholarship recipient will be announced on April 12th, 2018 within the Consolidated Credit blog and social media platforms. For the full rules of entry, please visit the scholarship details page to learn more: https://www.consolidatedcredit.ca/2018-consolidated-credit-counseling-services-of-canada-scholarship-program/
Good luck to all the participants!
Consolidated Credit team
About Consolidated Credit Counseling Services of Canada: Consolidated Credit Counseling Services of Canada, Inc. is a national non-profit credit counselling organization that educates consumers about personal finance and has helped over 500,000 Canadians tackle their debt.
Consolidated Credit's unbiased debt-counselling service offers alternatives to help people get their debts under control. Alongside consolidating payments, Consolidated Credit's counsellors focus on education and understanding. Strategies include teaching basic, but vital concepts, such as how to budget, understanding credit, and how to manage money.
For more information or to request an interview with Jeffrey Schwartz, please contact:
Shivani Karwal, Educational Content Manager
Consolidated Credit Counseling Services of Canada, Inc.,
T: 416-915-7283 ext.1055, F: 416-915-5200, E: skarwal(at)consolidatedcredit.ca