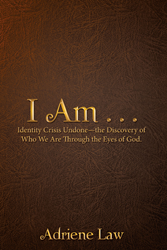 LANGLEY, British Columbia (PRWEB) March 26, 2018
A Canada-based writer has released her faith-focused, devotion-style guide that aims to help readers separate themselves from the emotional scars of life's lows, surrender their pain to God, and discover their true identity through spiritual nourishment.
In "I Am," author Adriene Law puts forth a practical resource, inspired by her own spiritual journey, for those grappling with challenging or traumatic life events and provides a grounded perspective on conquering personal doubts and demons.
"For most of my life, identity was something I lacked – I never felt like I belonged anywhere, did things my way most of the time and figured if God were truly there, He would intervene for me," Law said. "Eventually and painfully, I came to a place of surrender and learned that God was indeed always there, even protecting me from myself."
"An empowering and thoughtful journey of discovery," a WestBow Press customer wrote in a five-star review of the book. "… A nice balance of the personal and the biblical with space to make notes and add one's own perspective and favourite passages."
Through topical entries and complementary passages of scripture, "I Am" encourages readers to access and embrace God's truth in their journey to finding peace and grace in a simple and meaningful way.
"I Am"
By Adriene Law
ISBN: 978-1-9736-0423-5 (hardback); 978-1-5127-8032-1 (paperback); 978-1-5127-8031-4 (electronic)
Available at the WestBow Press Online Bookstore, Barnes & Noble and Amazon
About the author
Adriene Law is a wife, mother and passionate follower of God. Law regularly practices living from a place of surrender and love while still learning and growing as a person and Christian. She currently resides in Langley, British Columbia. To learn more, please visit http://www.adrienelaw.com or http://www.IdentityCrisisUndone.com.
Review Copies & Interview Requests:
LAVIDGE – Phoenix
480-648-7557
dgrobmeier(at)lavidge.com
General Inquiries:
LAVIDGE – Phoenix
480-998-2600 x 584
mdriver(at)lavidge.com