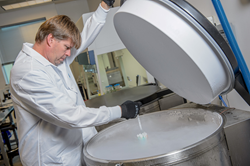 ORLANDO, Fla. (PRWEB) March 16, 2018
Cryos International Sperm and Egg Bank is one of the leaders in its' industry, having the world's largest inventory of sperm donors. Cryos is based in Orlando, Florida and is also home to thousands of frozen eggs, so proper security and precautions of their gamete storage are of the highest-level priority to maintain. Cryos' storing system is monitored 24 hours a day, 7 days a week by trained laboratory staff who immediately respond to any alerts.
As a commercial gamete bank Cryos uses larger, more durable liquid nitrogen storing tanks. These provide a safer environment for the gametes in comparison to smaller tanks, such as those commonly used in IVF centers. All storage tanks at Cryos International are equipped with redundant alarm and notification systems that monitor the tanks for 2 crucial measurements, to ensure they have both correct temperature and level of nitrogen at all times.
In addition to the redundant monitory systems, the laboratory performs daily and weekly quality control to ensure potential problems are identified before they occur.
To Cryos, it's personal and with that comes a personal commitment to the continuous evaluation of its' safety procedures is a must to ensure that stored gametes are provided the safest storage environment possible.
For questions regarding Cryos' safety policies, please contact our headquarters at 407-203-1175 or e-mail: usa(at)cryosinternational.com
For questions regarding Gamete Cryopreservation, please contact Tissue Bank Director Corey Burke at 407-203-1175 ext 5003.
About Cryos International
As the world's largest sperm bank and first free-standing, independent egg bank in the US, Cryos International is the leader in third party reproduction and personalized insemination service. With 30 years' experience and delivering to over a 100 countries, Cryos International aims to ensure a wide selection of high-quality, extensively screened frozen donor sperm and frozen donor eggs from all races, ethnicities and phenotypes for both home insemination and fertility treatments. Through medical partnerships and evolving research, Cryos continues to improve and expand its global services of helping to provide the gift of family.
For more information about Cryos International, visit usa.cryosinternational.com.