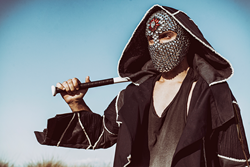 NEW YORK (PRWEB) March 16, 2018
Internationally renowned dance music producer Manuel Riva has released his single "Miami (feat. Alexandra Stan)" in North America on Radikal Records today, Friday, March 16th. With a latin music feel, "Miami" showcases Manuel Riva's diverse musical style- one that avoids the familiar, and breaks down barriers between genres. "Miami" is Manuel Riva's newest single on Radikal Records, following up his previous singles "Mhm Mhm (Feat. Eneli)" and "Sacred Touch (Feat. Misha Miller)".
Manuel Riva's career is rife with accomplishments, though his time in the limelight began just two years ago. In the United States, Riva has charted Top 20 on the Billboard Club and Billboard Dance Club charts. Several of his tracks, including "Mhm Mhm" and "Sacred Touch", have been spun by critically-acclaimed DJs including Tiesto, Robin Schultz, Gareth Emery and more. In his home country Romania, he was nominated for an EMA for Best Romanian Act. Besides his own releases, he has worked on various other projects as a producer for other artists in the music industry.
For his track "Miami", Riva invited Romanian award-winning singer Alexandra Stan onto the project. He wrote the track two years ago, but played "Miami" to Stan just last summer, who fell in love with the song. Giving an entirely unique vibe to the track, Riva felt Alexandra Stan was the best fit for the song's vocalist. Alexandra Stan is known for her worldwide breakout single "Mr. Saxobeat", which was released in 2011. The chart-topping single launched her successful music career, with three studio albums to date. She was awarded "Best Romanian Act" at the MTV Europe Music Awards, won several categories at the Romanian Music Awards, and won "Romanian Border Breaker" at the European Border Breaker Awards. She is currently gearing up to release her fourth studio album.
In an interview at the Amsterdam Music Event 2017 with Nexus Radio, Manuel Riva shared why the track is titled "Miami", and why people will relate to its deeper meaning:
"If you listen to the lyrics, it's not about Miami as a city but about freedom; it's about some place that gives you a certain vibe. The whole concept behind the video tries to bring that up… people will get the feeling that is about them."
Manuel Riva's new track "Miami (feat. Alexandra Stan)" is streaming on Spotify, and is available for purchase on all digital music retailers including iTunes, Amazon, Google Play and more. The music video for "Miami" is available now on the Roton Music YouTube channel. For more information, visit Radikal Records at radikal.com.
About Radikal Records:
Established in 1990, and based in the greater New York City area, Radikal Records is one of the United States' leading independent record labels. In business for more than 25 years, they are focused on marketing, promoting, and distributing artists – not only to audiences in the USA, but also on a global basis to partners world-wide. Artists included on their roster over the years include: Kristian Nairn, DJs From Mars, Tony Moran, Salt Ashes, 2 Unlimited, N-Trance, Zombie Nation, ATB, Yello, Scooter, Schiller, Blank & Jones, Cosmic Gate, Sinead O'Connor, Ayah Marar, and many others.