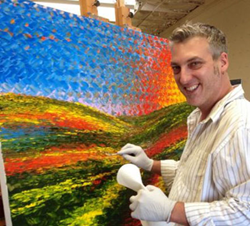 HENDERSONVILLE, Tenn. (PRWEB) March 15, 2018
An exhibition of recent work, Alexandre Renoir: Beauty Remains, by the great-grandson of famed French Impressionist painter Pierre-Auguste Renoir, sponsored by the Park West Foundation, will open next month at the Monthaven Arts and Cultural Center in Hendersonville. The 44-year-old Renoir, who was born in France and raised in western Canada, will travel to Tennessee from his home in northern California, where he now lives with his family and paints daily in his studio.
He will be present at the free, public opening of Beauty Remains on Sunday, April 22, from 2 to 4 p.m. Approximately 40 of Renoir's works, primarily oils on canvas, will be shown. Among those will be a painting Renoir has created specifically for the Tennessee exhibition entitled, "Moonlight and Magnolias," which features a view of historic Monthaven, the late Victorian Greek Revival mansion, built about 1860. Posters of the commemorative painting will be available for purchase.
Prior to the opening reception, Renoir will lead a Master Class in the "Magnolia Cottage" at noon. The class is free to MACC members but reservations are required. Non-members may participate for a $20 fee. Anyone from ages 8 to 100 may enroll by calling the MACC at (615) 822-0789. However, space is extremely limited, according to MACC Executive Director Cheryl Strichik, who noted that the day will be filled with a myriad of activities, including art, music and refreshments, all sponsored by the Park West Foundation.
The title of Renoir's exhibition, Beauty Remains, alludes to a statement that his renowned great-grandfather, who suffered from debilitating rheumatoid arthritis, made to his young friend, painter Henri Matisse, who asked why he continued to paint when it was obviously so painful: "The pain passes but the beauty remains," Pierre-Auguste Renoir, 1915.
Alexandre Renoir says he continues to live by his great-grandfather's painting philosophy, roundly criticized in the days of the advent of Impressionism, of preferring to portray the pleasurable, serene aspects of life, while pointing out that there were "too many unpleasant things in life as it is without creating still more of them."
Renoir's painting style is based in Impressionism, which was innovated and mastered by his great-grandfather, who was extraordinarily successful during his lifetime. However, Alexandre has adapted and evolved the Impressionist style by using an approach that is looser, and brighter than his celebrated ancestor's. His work is generally inspired by nature (lilies are a theme that return again and again), while Pierre-Auguste Renoir's paintings focused predominantly on feminine sensuality and domestic life scenes. Alexandre also paints exclusively with palette knives, many of which he makes himself based on his particular need for a work, and also mixes his oil colors directly onto his canvases, which he says produces deeply saturated, vibrant colors not seen in traditional, 19th- century Impressionism.
Visitors to Beauty Remains, which will be on view through June 10, will be able to see his great-grandfather's (who died in 1919) influence on his descendant's work almost 100 years later, Alexandre noted.
Strichik said that she is pleased to have the opportunity to bring artists of Renoir's caliber to the MACC, which she believes has begun to generate a new enthusiasm for the fine arts in Sumner County during the past year while sparking a revitalization of the area's arts community. Strichik added that "like most non-profit organizations, we are always searching for additional sponsors to underwrite programs and activities."
The MACC new hours, beginning in April are: Tuesday through Saturday, 10 a.m. to 5 p.m., and Sunday, noon to 5 p.m. For more information about the exhibition, contact Kathleen Johnson at Admin@TheMACCTN.com or by calling (615) 822-0789.
The Mission of the Monthaven Arts and Cultural Center is to "collect, preserve and interpret local and regional art, and present exhibits of regional, national and international importance. History, arts, education, and community will remain an ever-present commitment to the Monthaven Arts and Cultural Center."