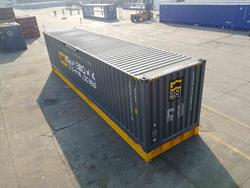 "Not only do CakeBoxx containers guarantee much needed security improvements, they also streamline handling procedures by minimizing break down and reassembly requirements and increasing terminal velocity by reducing the load and discharge times." - David Aguilar
MCLEAN, VA (PRWEB) March 15, 2018
CakeBoxx Technologies will unveil their newly designed CakeBoxx 40' container at Intermodal Asia 2018 exhibition in Shanghai from 20 – 22 March.
The new CakeBoxx 40' boasts a higher max payload than its predecessor, while increasing the internal dimensions. These improvements are the result of reduced TARE weight made possible by using 'lightening' holes in the bottom side rails of the deck and using fiberglass reinforced plastic (FRP) flooring. The combination of these technical changes also gives the new 40' CakeBoxx container a distinctive and unique appearance that accentuates the 'two-piece' design.
The 2018 CakeBoxx 40' follows a series of significant product updates from CakeBoxx Technologies in 2016 and 2017 with the release of both the 45' and 53' 'BreakBulkBoxx' containers. These two products pioneered CakeBoxx Technologies' lightning hole design element. Like its larger predecessors, the CakeBoxx 40' comes standard with state-of-the-art FRP flooring. The new 40' CakeBoxx also uses a system of recessed cargo tie-down points to increase usable floor space. More information and a downloadable spec sheet for the CakeBoxx 40' can be found on the company's website.
Commenting on the security and utility of the new container's design, former Commissioner of U.S. Customs and Border Protection (CBP) and former National Chief of the United States Border Patrol David Aguilar stated,
"60 percent of all marine cargo moves in containers each year - and billions of dollars are lost each year due to theft, vandalism, cargo handling damage and related delays. Amazingly, only minimal changes to address these vulnerabilities have been made to the shipping container. The unique CakeBoxx design is a transformative change to the shipping industry and offers a quantum improvement in security as a result of their two-piece, 'no doors' design. Not only do CakeBoxx containers guarantee much needed security improvements, they also streamline handling procedures by minimizing break down and reassembly requirements and increasing terminal velocity by reducing the load and discharge times."
The company has plans for other new products later this year, bringing the CakeBoxx 'two-piece' container advantages to several new markets including the cold chain and energy sectors. CakeBoxx Technologies CEO Daine Eisold noted they are in the final stages of design for these products and he expects they will make their appearance in the market by the end of this year.
CakeBoxx Technologies – Safe, Secure and Efficient Cargo Solutions
CakeBoxx Technologies designs, builds and sells innovative 'two-piece' cargo shipping containers to the global cargo transportation and specialty manufacturing markets. CakeBoxx containers with their deck and lid design, are the first innovation in the industry to offer truly safe, secure and efficient containerized transport for the top-loaded, side-loaded, break bulk and general project cargo markets. Advantages of CakeBoxx containers include increased operational efficiency, reduced risk of cargo theft, and lower operating costs. Using CakeBoxx containers saves money. CakeBoxx Technologies offers these products in a range of sizes and specifications to meet individual customer needs.