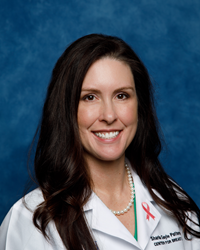 I offer cryoablation to my patients because it is cutting edge technology that is safe and effective.
NAPLES, Fla. (PRWEB) March 16, 2018
NCH Healthcare System has announced that it is enrolling patients in the FROST Clinical Study, "Freezing Alone Instead of Resection Of Small Breast Tumors: A Study of Cryoablation for the Management of Early Stage Breast Cancer." The FROST Study is a phase II single-arm multicenter clinical trial that examines the use of cryoablation as an alternative to surgical resection for the management of primary early stage invasive breast cancer. Sharla Gayle Patterson, M.D. is the first breast surgeon to join the FROST Study in Florida.
Dr. Sharla Patterson is a board-certified breast surgeon by the American Board of Surgery. She finished her residency at the University of South Alabama and fellowship at Emory University. She was the first physician in the state of Alabama to treat breast cancer with cryoablation. Since then, Dr. Patterson has become the Medical Director of the NCH Center for Breast Health at the NCH Healthcare System and a Principal Investigator on the FROST Clinical Study. After experiencing great clinical results and patient satisfaction, she has brought the exciting treatment of cryoablation for the advancement of breast care to southwest Florida.
Cryoablation—also referred to as tumor freezing—is a minimally invasive procedure done under ultrasound guidance in the doctor's office or radiology suite. After injection of local anesthesia, a thin probe is inserted through the skin directly into the tumor. Liquid nitrogen is pumped into the probe to form an "ice ball" around the lesion. Freezing destroys the tumor cells, which are then reabsorbed by the body over time. The procedure can be done in less than an hour with most patients reporting minimal discomfort and a resumption of normal activity right away. Little, if any, visible scarring occurs. Because no breast tissue is removed during the procedure, the natural shape of the breast is maintained.
"I offer cryoablation to my patients because it is cutting edge technology that is safe and effective," Dr. Patterson explained. "The technology allows me to spare women scars and anesthesia."
Breast cryoablation has already been shown to be a safe and effective minimally invasive alternative to lumpectomy in earlier studies. The current clinical study is a follow-up to the landmark National Cancer Institute-sponsored study "ACOSOG (Alliance) Z1072" trial which showed 100% ablation success in all breast tumors less than 1.0 cm and was effective in 92% of all targeted tumors. No cases were categorized as ineffective ablation. The Visica 2 Treatment System was the exclusive device used in the Z1072 study.
"Good candidates for the technology are patients with benign or cancerous tumors that are small," said Dr. Patterson, "I see this technology expanding quickly to larger tumors (benign and malignant) and more advanced cancer cases."
FROST investigators are actively recruiting 200 female patients, 50+ years of age, at 20 locations nationwide. The study will track the breast tumor recurrence rates, assess breast cosmesis post-treatment, record adverse events and provide 5-year follow-up. To date, 14 centers are actively recruiting patients with the remaining sites identified. Patient eligibility requirements include unifocal primary invasive breast cancer diagnosed by core needle biopsy; maximum tumor size less than or equal to 1.5 cm. Cryoablation will be done with the Visica 2 Treatment System.
To find out more about the FROST clinical study, visit clinicaltrials.gov. To find a physician who specializes in this procedure, contact Sanarus Technologies at 800-909-3060 or send an email to support(at)sanarus.com.
About Sanarus Technologies
The Visica® 2 Treatment System was first available for cryoablation of fibroadenoma. Since then, our system has been used to successfully treat thousands of patients. The Visica 2 Treatment System is FDA-cleared for the ablation of cancerous or malignant tissue and benign tumors. At Sanarus, we develop innovative solutions for the nonsurgical treatment of breast tumors. We are headquartered in Pleasanton, CA, and all our products are manufactured in the USA. Find out more about cryoablation at sanarus.com.
About NCH Healthcare System
The NCH Healthcare System is a not-for-profit, multi-facility healthcare system located in Naples, Florida, United States. The System is more than just two hospitals (NCH Baker Downtown Hospital, and NCH North Naples Hospital) with a total of 716 beds. The NCH Healthcare System is an alliance of 775 physicians and medical facilities in dozens of locations throughout southwest Florida. Inpatient services include: medical, surgical, cardiac, orthopedic, obstetric, pediatric, rehabilitative, psychiatric, oncology, emergency treatment, and diagnostics. Outpatient services include: rehabilitation, home care, urgent care, wound healing, and more. This year the System had 39,883 admissions, 111,000 emergency room visits, 3,600 births, 405 open heart surgeries, 11,800 surgical procedures, and 4,300 employee colleagues. NCH Physician Group is the largest physician group in Collier County with 700,000 total patient encounters. NCH is a member of the Mayo Clinic Care Network. NCH's mission is to help everyone live a longer, happier, and healthier life. NCH is sponsoring the Blue Zones Project for Southwest Florida. For more information, visit NCHmd.org.