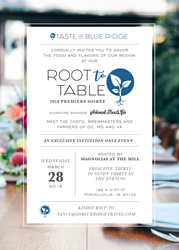 Top choice for Foodie Lovers
PURCELLVILLE, Va. (PRWEB) March 15, 2018
The best food industry leaders in the Shenandoah Valley have created a marketing platform called "Taste of Blue Ridge" with the goal of branding this Blue Ridge Mountain region as a national culinary destination. The website's focus is on the people behind the food. Read about how the chefs got started, what is a favorite kitchen tool, or how mother of a two year old decided to open a brewery with a best friend? These community members are dedicated to serving the highest quality level of food using the best local resources available here in the United States.
"The community's mission is to educate the consumer on how to take products from their farmer markets and backyard gardens hence "root origin" and turn them into award winning dishes and beverage cocktails. That is why Taste uses "root to table" to describe this foodie escape weekend," said Nancy Craun, Owner and Founder of Taste of Blue Ridge.
Kicking off the launch of the newly designed website is the first annual "Root to Table Premiere Soiree" on March 28th at Magnolias at the Mill in Purcellville, Virginia. 170 of the most influential leaders in the food industry on the Interstate 81 Corridor have been invited. The event is by invitation only. Magnolias at the Mill will be showcasing the cuisine of Chef Erik Foxx-Nettnin. The list includes chefs, owners, farmers, breweries, wineries, and distilleries, government liaisons in tourism, agriculture, and economic development as well as Taste's food evangelists – people who travel for food.
"It is very exciting to see the chefs who will be joining us for our launch event at Magnolias at the Mill. Attendees are coming from as far as 100 miles away to kick off Taste of Blue Ridge," said Craun.
Taste of Blue Ridge's Root to Table series was funded by a Virginia Tourism marketing grant and will consist of six events in 2018 to include:

March – 'Premier Soiree' celebrating Taste of Blue Ridge at Magnolias at the Mill in Purcellville, Virginia.
April – 'Salute to the Farmers' at Schenck Foods Company in Winchester, Virginia. This will be the kick off of a monthly regional farmers market.
July - 'Celebrating America's Food History' at Hillbrook Inn and Spa in Charles Town, West Virginia. This event will feature eight of the top chefs in our region in a fun grilling event to be announced.
The Fall and Winter season will see three events:

September - Celebration of the Harvest Season
December – Celebration of Everything Beverage
February – Cooking Class on the Art of Preserving and Fermenting.
Taste of Blue Ridge is happy to announce the 2018 Signature Sponsor is Schenck Foods Company in Winchester, Virginia. Celebrating 90 years of service as a distributer to the food industry in 2018, Schenck is setting a new direction for the company reaching out to local farmers to become the major farm distributor here in the Shenandoah Valley.
This community platform is working with Go Blue Ridge Travel - a PR-branding consulting company located in Shepherdstown, West Virginia.
About GoBlueRidgeTravel.com
Go Blue Ridge Travel (GoBRT) is a PR – Marketing consulting firm that specializes working with small to medium B to B companies to form marketing communities where tribe members can collaborate under website umbrellas to increase one's influence in the PR and social media market.
.
Taste of Blue Ridge, is one of GoBRT communities launched in April 2016, promoting culinary travel here in the Virginia and West Virginia's Blue Ridge Mountains. With a mission to bring the best quality food to the valley supporting local farms in the United States, Taste of Blue Ridge's partner community was a recipient of a $25,000 tourism marketing leveraging grant for the Blue Ridge Root to Table Culinary Series.
The purpose of the grant is to promote six culinary events in 2018 celebrating the collaborative efforts of chefs, farmers, breweries, wineries, and distilleries. The community also includes community food stores who distribute local food products.
Founded and owned by Nancy Craun who grew up in the area and has 30 years of experience in the event planning, restaurant, hotel, and marketing arenas. GoBRT covers a 160 plus mile radius of the Interstate 81 Corridor spanning the states of Virginia, West Virginia, and Maryland.
Contact: Nancy Craun Founder and Owner GoBlueRidgeTravel.com and ShenandoahValleyKidsTrail.com Phone: 540.533.1853 Email: info(at)GoBlueRidgeTravel(dot)com