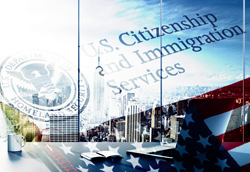 With the current administration pushing for immigration reform, all may change for next year's H-1B applicants.
SAN FRANCISCO, Calif. (PRWEB) March 15, 2018
There is now more intense scrutiny than ever for compliance with the increasing H-1B visa regulations. Changes to the H-1B visa documentation requirements are making it more difficult for workers and their potential employers to navigate the application process. Furthermore, the H-1B visa is highly coveted, which results in many more applications being filed than visas offered. This year it is expected that there will be over 200,000 applicants for the 85,000 slots. The visa recipients are chosen by lottery over the first five days of April, so it is very important that the paperwork is filed correctly to avoid automatic rejection or delay.
E&M Mayock, an immigration law firm based in San Francisco, processes many H-1B visa petitions every year and knows that there is a sense of urgency as the deadline approaches. "A Labor Condition Application must be certified by the Department of Labor before the H-1B visa petition can be filed with USCIS," says James Mayock, Managing Partner. "It takes at least 7 business days for that certification to be completed, so that process must be initiated now."
Under the heading of "general cap", 65,000 new H-1B visas are offered every fiscal year. An additional 20,000 visas are offered under the title "U.S. Master's Cap" for those who have completed a Master's degree or higher at a U.S. non-profit University. With the current administration pushing for immigration reform, all may change for next year's H-1B applicants.
Typically, H-1B job offers are directed towards highly specialized workers; most have special skills in computer, math and science, others may be skilled in fields such as the physical sciences, health, law education, and the arts. There is also a special provision for fashion models of "distinguished merit and ability". One of the most famous of those models having benefited from the H-1B program is First Lady Melania Trump, who subsequently earned a green card and a path to citizenship.
The application process for the program has become ever more stringent than in prior years. Among the criteria that must be met are: the employee's credentials must be matched to the requirements of the job, the employee's salary must match the industry standard for the position offered, and, to assure transparency, the employee's prospective salary must be posted by the employer for ten days in two prominent locations at their future workplace.
The deadline for submitting paperwork and documents to E&M Mayock is March 16th, 2018. Mayock says, "We seek to ensure that all of our petitions are submitted before the numbers run out." Given increasing H-1B visa regulations and additional scrutiny for compliance, it is essential to file as soon as possible.