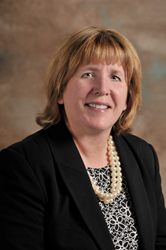 Through makerspaces, our organizations are creating a pipeline of young women prepared to achieve in STEM careers.
ROCKLIN, Calif. (PRWEB) March 16, 2018
Carol Pepper-Kittredge, Associate Dean, Workforce Development, Sierra College, was recently recognized as "Community Partner of the Year" by the Girl Scouts Heart of Central California Council, based in Sacramento CA and covering 18 counties in central California. Pepper-Kittredge is the Statewide Project Manager of CCC Maker, a California Community College Chancellors Office initiative building 24 community college educational makerspaces with $17 million in funding under the Doing What MATTERS for Jobs and the Economy framework and housed at Sierra College.
Pepper-Kittredge provided guidance and resources to support Girl Scouts Heart of Central California in planning the new Science, Technology, Engineering and Math (STEM) Center + MakerSpace which opened in November 2017, explained Dr. Linda E. Farley, CEO, Girl Scouts Heart of Central California.
"Carol freely shared her experiences partnering with a community makerspace to establish Hacker Lab powered by Sierra College in Rocklin," said Farley. "She led tours of the space, invited us to events, shared equipment and provided guidance on the kind of technology we should invest in to make the center on the cutting edge for girls. We most appreciated her passion for making and encouraging girls to discover their interest in STEM through fun, hands-on activities. Her insights and encouragement were instrumental in helping our council design and build the STEM Center + MakerSpace."
Sierra College Superintendent/President, Willy Duncan, noted Sierra College's goal of providing educational and career opportunities through the statewide CCC Maker initiative aligns well with the Girl Scouts. "When young girls discover the excitement of learning through making, they become aware of their ability to contribute to our society through creativity and innovation," said Duncan. "We are honored that Carol Pepper-Kittredge was selected as the Community Partner of the Year by Girl Scouts Heart of Central California Council. Carol exemplifies the maker culture of sharing and collaboration. Through makerspaces, our organizations are creating a pipeline of young women prepared to achieve in STEM careers."
Pepper-Kittredge believes making in a creative space allows girls to gain confidence in their skills and abilities. "Makerspaces give girls the freedom to apply their creativity to making projects that they care about and solve problems that are meaningful to them," said Pepper-Kittredge. "I applaud the Girl Scouts Heart of California for their commitment to giving girls life-changing experiences through the new MakerSpace. It is essential that girls get innovation tools in their hands early so that they envision themselves in STEM careers where they can make a difference in the world."
The mission of Girl Scouting is to build girls of courage, confidence and character who make the world a better place, according to Farley. "The STEM Center + MakerSpace hosts structured STEM and open-format maker and design-thinking activities that inspire innovation," said Farley. "Through collaborative problem solving, cooperative learning opportunities and hands-on experimentation, girls learn skills that will be useful as they pursue education and careers." In July 2017, Girl Scouts introduced 23 new badges with many focused on STEM such as robotics, coding and racecar design.
Pepper-Kittredge also arranged for the Girl Scouts to be involved in the Rocklin Mini Maker Faire held at Sierra College. "Sierra College provided the materials for Girl Scouts to use in helping Maker Faire attendees make their own inventions with squishy circuits," said Pepper-Kittredge. Squishy circuits teach children about electrical circuits by using conductive and insulating play dough with LED lights.
Hacker Lab powered by Sierra College also hosted a three hour Design Thinking workshop for 20 Girl Scouts ranging in age from 10-13 in November 2017, explained Pepper-Kittredge.
"While she was a student leader for Sierra Makerspaces, Heather Lincoln conducted a Design Thinking workshop that taught Girl Scouts how to quickly ideate and prototype by designing a holder for their pencil mounted on a notebook," said Pepper-Kittredge. "Heather used the constraints of time and materials to encourage creativity. Next, teams of girls were given a design challenge to develop a new product that could improve their lives. At the end of the session, they showed their prototypes and pitched their ideas to the group. The proposed products included shoes that were impervious to nail punctures (and had materials that were beneficial to animals and the environment), a cup that was spill proof and unbreakable and a 3-in-1 sponge that never smelled bad."
Learn more about how CCC Maker is embedding making into education at 24 California Community Colleges by visiting the CCC Maker initiative website. Learn more about the Girl Scout STEM Center + MakerSpace.
About Sierra College
Sierra College District is rising to the needs of our community. Sierra College serves 3200 square miles of Northern CA with campuses in Roseville, Rocklin, Grass Valley, and Truckee. With approximately 125 degree and certificate programs, Sierra College is ranked first in Northern California (Sacramento north) for transfers to four year Universities, offers career/technical training, and classes for upgrading job skills. Sierra graduates can be found in businesses and industries throughout the region. More information at the Sierra College website.