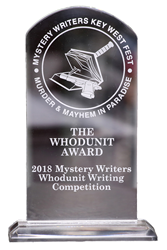 "Why just the first three pages? A book either captures a reader in the first three pages, or it doesn't."
KEY WEST, Fla. (PRWEB) March 15, 2018
Mystery Fest Key West has announced a call for entries for this year's Whodunit Mystery Writing Competition. The winner will claim a book-publishing contract with Absolutely Amazing eBooks, free Mystery Fest Key West 2018 registration, airfare, hotel accommodations for two nights, meals and a Whodunit Award trophy to be presented at the 5th Annual Mystery Fest Key West, set for June 22-24 in Key West, Florida.
Sponsored by Absolutely Amazing eBooks, candidates wishing to compete are invited to submit the first three pages (maximum 750 words) of a finished, but unpublished manuscript to whodunitaward(at)mysteryfestkeywest(dot)com no later than April 15, 2018. There is no fee to enter, finalists will be notified by May 1, and will have until May 10 to submit full manuscripts.
"Why just the first three pages? That criterion is a nod to late author Jeremiah Healy, a world-class mystery writer and a great judge of mystery writing," says Shirrel Rhoades, co-founder of Mystery Fest Key West. "Jerry's opinion was that a book either captures a reader in the first three pages…or it doesn't. The competition judges all agreed with that assessment, and decided to use it as a yardstick for the competition."
The inaugural, 2015 award was called "The Jerry" in Healy's honor and was won by J.E. Irvin of Springboro, Ohio, for her entry titled "The Dark End of the Rainbow." Lewis C. Haskell of Key West, Florida, took the 2016 Whodunit with "Tequila Mockingbird," and Mike Pettit of Gulf Breeze, Florida, won in 2017 with his entry, "Key West Flashpoint."
Whodunit Writing Contest judges for 2018 are Dr. Toby Armour, a playwright, author, dancer and choreographer, whose credits include the murder mystery book "Blood Tells" and play, "Is This 24 Lily Pond Lane?"; Carol Lazar, an author, columnist, photojournalist and former senior editor for South Africa's Independent Newspapers; Captain Reef Perkins, author of "Sex, Salvage and Secrets," Screwed, Blu'd and Tattoed," and the mystery novel "Deep Air"; Robin Robinson, an author, syndicated newspaper columnist, educator and horticulturist; and Rhoades, an author, film critic, media consultant and publisher of Absolutely Amazing eBooks.
The 2018 Fest features workshops, presentations, panel discussions and social events where attendees mingle with acclaimed mystery and true crime writers, including Keynote Speaker Ace Atkins, the multi-award winning, New York Times bestselling author of twenty-one novels, including continuation of the Robert B. Parker "Spenser" series; the multi-award winning editor and publisher Otto Penzler - proprietor of the famed "The Mysterious Book Shop" in New York City; New York Times bestselling author Lisa Black; award-winning and New York Times bestselling co-author Charles Todd; bestselling and award-winning author Nancy J. Cohen; author and President of Mystery Writers of America, Florida Chapter, Diane A.S. Stuckart and many others.
Complete Whodunit Writing Competition guidelines, submission details and Fest schedule are available at mysteryfestkeywest.com.