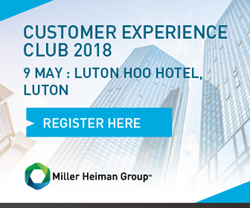 "Don't be lulled into assuming your existing customer base is fixed," says Barry Trailer from CSO Insights. "Do the hard work now of identifying your best customers, and commit to really understand them."
LONDON (PRWEB UK) 22 March 2018
In the past, many organisations adopted an approach to sales which was primarily based on competing through their products or their prices. However, in the modern sales environment, the most successful brands understand the importance of solving problems for customers and delivering a high-quality customer experience.
It is only through this kind of long-term, customer-centric strategy that companies can hope to gain a lasting advantage over their competitors, retain customers, gain referrals and grow their organisation.
With this in mind, Miller Heiman Group is hosting the Customer Experience Club 2018 event at the Luton Hoo Hotel, Golf & Spa on 9 May, 2018. The focus of the event will be on how customer service training and coaching can help to improve the customer experience, improve satisfaction levels and generate true loyalty.
Expert Insight
Over the course of the event, attendees will have the opportunity to take part in Miller Heiman Group led workshops, where they will be able to learn customer service training best practices and customer service coaching tips, as well as discover the kind of sales methodologies that genuinely meet the needs, wants and expectations of customers.
Expert speakers will be on hand at the event, including Tamara Schenk, the research director of CSO Insights, who will share insights from the company's first customer experience study, and talk about the business case for customer experience development and the return on investment that is possible.
Moreover, in the keynote address, HR and customer service expert, Linda Moir, will discuss employee engagement, the customer experience and strategies for businesses in times of cost-cutting. Her presentation will also highlight some of the lessons that can be learned from the London 2012 volunteer Games makers.
Networking Opportunities
Among the other industry leaders who will be present at the Customer Experience Club 2018 event are Guy Boyd, who is a leadership and culture development expert, and Katy Ribalet, the Senior Manager of Global Customer Service Excellence at Dentsply Sirona, whose range of expertise includes customer service coaching and training.
Throughout the day, attendees will also have plenty of networking opportunities. This will provide them with the chance to find out about customer service best practices from peers who operate in broad spectrum of industries and who have a variety of different sales and service backgrounds.
The event will run from 09:00 until 14:30 and the full agenda can be found here. Group rates are also available, meaning attendees who wish to bring colleagues with them will save money by booking together.
About Miller Heiman Group
Miller Heiman Group is the global leader in the field of business performance solutions, which includes sales training, sales coaching, sales enablement and account management practices. The company, which currently has more than 60 different offices around the world, has worked with some of the world's most successful businesses, assisting them in the implementation of sales and customer service solutions, which are grounded in technology and innovation, with a view towards achieving genuine sales effectiveness. To find out more, visit our website, or follow us on Facebook, LinkedIn, Twitter, Google+ and YouTube.