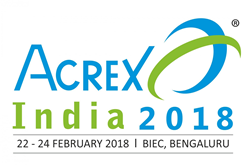 Quality Tools That Go To Work With You®
BANGALORE, India (PRWEB) March 15, 2018
Richard Apodaca, Director International and Arun Sharma, Country Head-India, received visitors at the 3 day event, whom were eager to learn about Uniweld's product display. This year, there were interactive demos which attracted a continuous stream of visitors throughout the exhibition. The display which attracted much attention was the brazing demonstration with the Cap'n Hook tip. The patented Uniweld Cap'n Hook 5 flame tip provides a wraparound flame for even heat distribution around the copper tubing, thus ensuring a properly heated joint. The 40° flame angle flows onto the copper tubing and away from sensitive areas, thus minimizing the chances of burning adjacent components.
The EZ Turn Challenge was also present, which invites HVAC/R technicians to connect a standard hose to an access valve under a pressure of 500 PSI. They then compare the process to connecting an EZ Turn hose under the same pressure and evaluate the difference for themselves. They were pleased with the absence of refrigerant leak as they connected the EZ Turn hose to the access valve and impressed by the ease with which one could connect the EZ Turn hose to a high pressure system.
Visitors were also invited to work with Uniweld's Smartech line which include the award winning USMAN5 Digital manifold and the most recently introduced Smartech member, the UVG digital vacuum gauge. The feature most liked by visitors on the USMAN 5 included the ability to view all critical data on a single screen view on their smart phone or tablet, as well as the ability to send real time performance data reports. Other favorable comments were also received included the EZ Access "T" Fitting located on the low pressure hose for connecting a micron gauge and providing a method for simplified charging and purging of refrigerant. The most commented features on Uniweld's Smartech UVG digital vacuum gauge included its compact size, as well as the ability to be notified when the vacuum gauge is contaminated with oil.
Rounding out the high profile products, was Uniweld's UEK1 Swage Expander which includes 6 heads ranging from 3/8" – 1-1/8" O.D. Also available are 1-3/8" and 1-5/8" expander heads. The compact size and the ease of operation were the features most like by the technicians visiting the Uniweld booth.
The 2018 ACREX event was deemed a tremendous success by exhibitors and visitors alike. ACREX is estimated to have had over 50,000 visitors in 2018, which exceeded expectations. Next year's exhibition will be held in Mumbai.
Uniweld Products, Inc. has manufactured quality HVAC/R tools at its factory located in Fort Lauderdale, Florida U.S.A. since 1949. Refrigeration manifolds & hoses, vacuum pumps, tubing tools, nitrogen kits, cutting torches, welding handles, cutting attachments, pressure regulators, pressure gauges, cutting tips and welding tips are among the products manufactured at Uniweld's factory in Fort Lauderdale. Uniweld... "Quality Tools That Go To Work With You®."