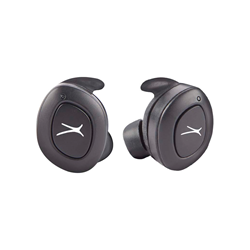 NEW YORK (PRWEB) March 19, 2018
Altec Lansing, innovator in audio, announced today the availability of the new True EVO Wireless Earbuds exclusively at Best Buy. The earbuds feature new Just Ask technology that directly connects to Siri and Google Assistant with a simple voice command, providing instant access to music playlists, weather reports, directions, and other information from wherever, whenever. The wireless earbuds allow for complete freedom to move while still providing impressive sound.
Each set of earbuds comes with a QI Wireless charging case to power the earbuds for four extra charges. Drop and Charge, simply place your case on a compatible QI Wireless pad and watch it charge. Each charge lasts up to three hours so you can keep on moving without interruption.
Comfortable earbuds are key for all-day wear, especially ones that are truly wireless. The True EVO Wireless Earbuds are compact and comfortable, yet more powerful than your standard earphones. The IPX6 Water Resistant rating ensure they can withstand any weather conditions faced or sweat as you endure your toughest workout. These earbuds also feature two sets of foam and silicone eartips for customized comfort that fit best around your lifestyle. The new earbuds join Altec Lansing's collection of durable and quality headphones, earphones, and more for those looking to take their tunes with them wherever they choose to go.
"We are thrilled to announce the availability of the new True EVO Wireless Earbuds at Best Buy stores across the country. The earbuds immersive sound combined with a convenient charging case and comfortable long lasting wear make them the ultimate upgrade for those looking to replace their outdated earphones and earbuds," said Joseph Campos, VP of Sales and Marketing of Altec Lansing. "Consumers turn to Best Buy to find the latest and greatest in gadgets, and this newest offering will surely provide consumers with a superior set of earbuds to compliment their active and connected lifestyle."
The True EVO Wireless Earbuds are now available at Best Buy stores for $99.99. To learn more about True EVO Wireless Earbuds, and for more information on Altec Lansing, visit http://www.alteclansing.com
About Altec Lansing
Since 1927, generations of music enthusiasts have recognized Altec Lansing as a premier brand that consistently delivers high quality and rich sound in a host of audio products including; headphones, earphones, everything-proof speakers, home and car audio, DJ speakers, turntables, mobile accessories, and more. Altec Lansing provides a seamless combination of beautiful design aesthetics and terrific sound to exceed every audiophile's expectations. Those who know audio, know Altec Lansing.
http://www.alteclansing.com l @alteclansingofficial
For more information, please contact:
Ashley Willis, Resound Marketing for Altec Lansing
ashley(at)resoundmarketing.com / O: 609.279.0050x105 / C: 732.500.2735