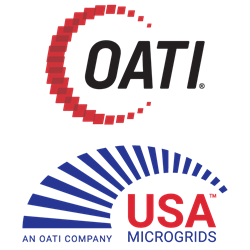 MINNEAPOLIS (PRWEB) March 15, 2018
OATI and USA Microgrids are pleased to announce their involvement as presenting sponsors for the Clean Energy Resource Teams (CERTs) Conference, March 28 - 29, 2018 in St. Cloud, MN. The conference agenda includes one day of conference and a half day of workshop, plus exhibits and networking.
As a presenting sponsor, OATI and USA Microgrids will both speak and demo our Grid 4.0™ system, Microgrids/DERs, and showcase our EV charge station network and management solution.
During the conference's Welcome and Kickoff, Mary Brown, Senior Executive Vice President and General Counsel of OATI, will present examples of successful projects from around the country and discuss how OATI can help Minnesota be just as successful. David Heim, Associate Vice President and Chief Strategy Officer at USA Microgrids, will speak during the "Charging Ahead with Energy Storage in Minnesota" session on Wednesday afternoon, focusing particularly on the OATI Microgrid Technology Center.
CERTs is focused on providing Minnesota communities with the necessary resources to move toward clean energy usage and sustainability. This biennial event brings together industry and community leaders from around the state to explore clean energy options, to learn, to connect, and to act.
"OATI and USA Microgrids are invested in helping Minnesota lead the nation in clean energy," said Sasan Mokhtari, Ph.D., President and CEO at OATI. "This is a fantastic opportunity to highlight our cutting-edge resources to leaders from all over the state who are interested in improving their green energy endeavors."
About OATI
OATI provides innovative solutions that simplify, streamline, and empower the operational tasks required in today's energy commerce and Smart Grid. Serving more than 2,000 customers in North America, OATI successfully deploys and hosts diverse mission-critical solutions committed to industry standards and stringent security guidelines.
OATI (http://www.oati.com) is a leading provider of Smart Grid, Energy Trading and Risk Management, Transmission Scheduling, Congestion Management, Distribution, and Market Management products and services. OATI is headquartered in Minneapolis, Minnesota, with offices in California, Punjab, Telangana, and Singapore. For more information, please contact sales@oati.net.
About USA Microgrids
USA Microgrids, an OATI company, addresses the needs of communities, commercial and industrial businesses, and municipal emergency services, by leveraging next-generation technology and deep staff experience, plus best-in-class providers of microgrid design services and equipment. The full microgrid development and operations platform addresses the concerns for more reliable electricity supply and stable energy prices by self-generating, controlling, and optimizing power.
USA Microgrids (http://www.usamicrogrids.com) is operated by leaders within the power industry who understand the requirements of the evolving modern grid. USA Microgrids is headquartered in Minneapolis, Minnesota. For more information, please contact communications@usamicrogrids.net.